Last spring the girls and I started hosting a neighborhood playgroup at our house for moms and preschoolers.  We met every other week for a story, craft and snack time, followed by some unstructured play.  We picked it up again this fall, are now meeting every Tuesday, and I even got organized enough to create a schedule of themes and field trips.  (My homeschooling roots are showing through.)
Here's what we've done so far:
Week 1: ZOO THEME DAY – read Two at the Zoo book, sang 'Old MacDonald had a Zoo', did a Giraffe craft and ate an animal cracker snack
I didn't take any pictures during group, but here are Lydia and Alethea admiring their giraffes afterwards: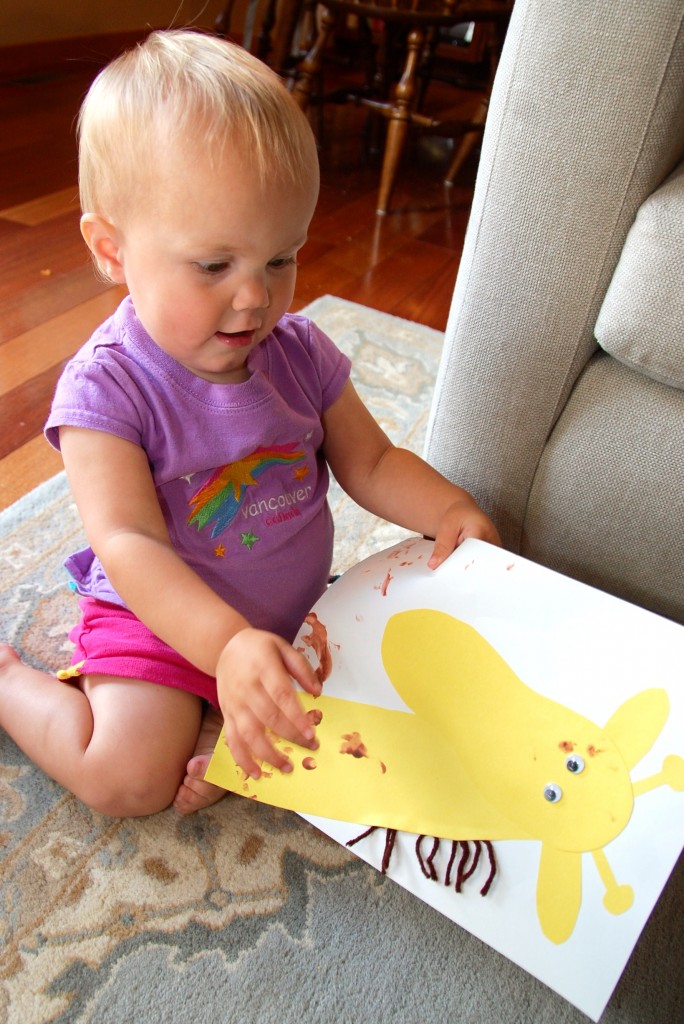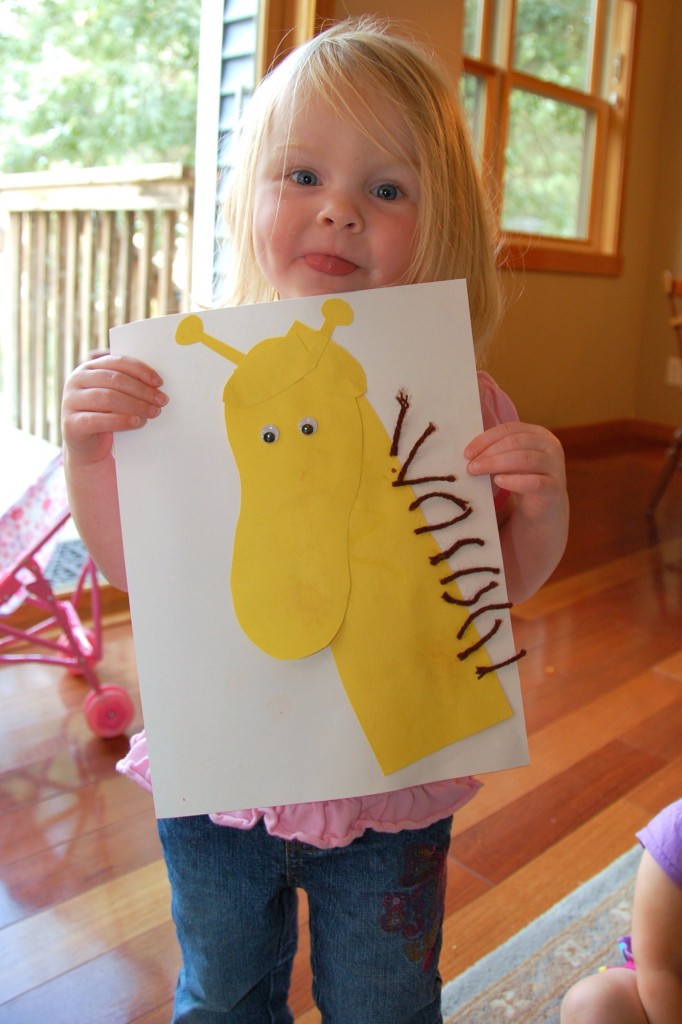 Alethea's doesn't have any dots because she refused to put her finger in the brown paint, which is totally fine, but does amuse me, because apparently Peter also refused to finger paint as a child.  Like father, like daughter.
Week 2: Field Trip – Naturally, we followed up Zoo Theme Day with a field trip to the zoo the next week, where we did see real live animals, but the statues were thoroughly enjoyed as well.  In fact, Alethea liked the tortoise statue so well, she gave it a hug.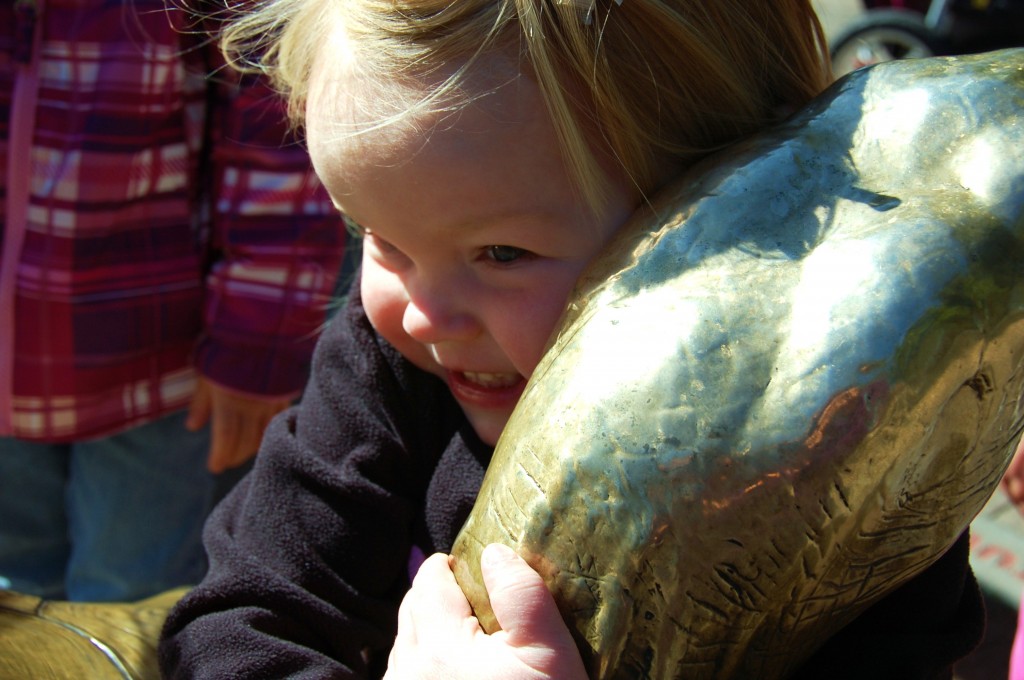 Somewhere there is a picture of me as a child sitting on this same gorilla statue: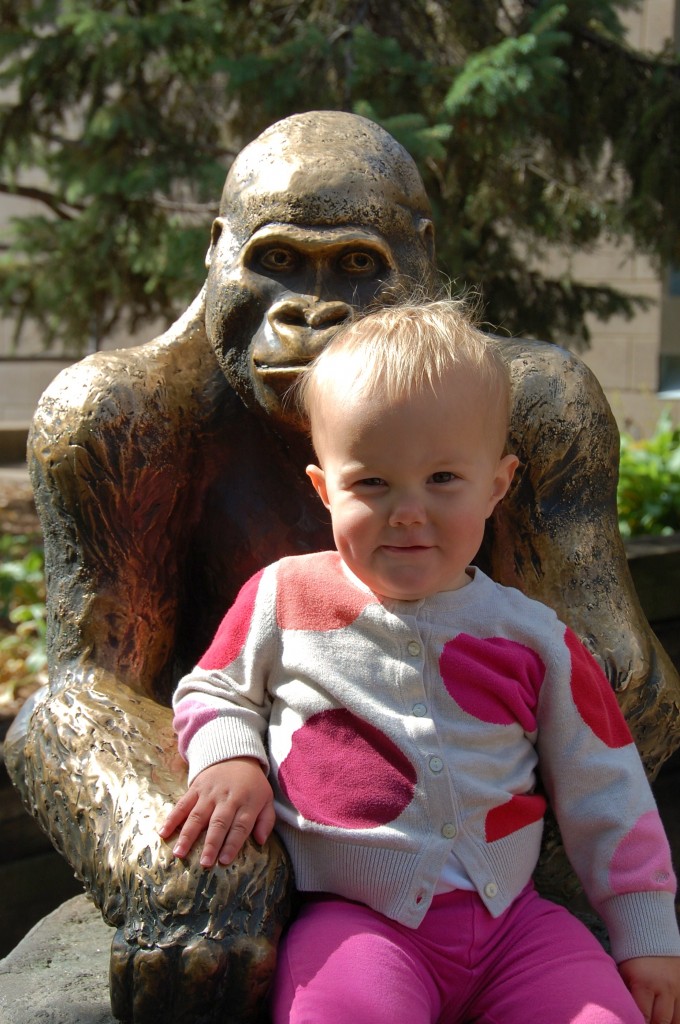 Week 3: Favorite Foods Day – read Bread and Jam for Frances, sang the "Peanut Butter and Jelly" song, made pasta necklaces, and had a very special snack.
Did you know you can dye pasta really cool colors?  I was sitting on my couch Monday night, cutting lengths of yarn for our necklaces when I decided that I had to find a way to make it more fun than just plain pasta yellow.  A quick google search revealed that a simple recipe of alcohol and food coloring is all that is necessary to achieve really gorgeous bright colors.  Here are the full directions if you care to check them out.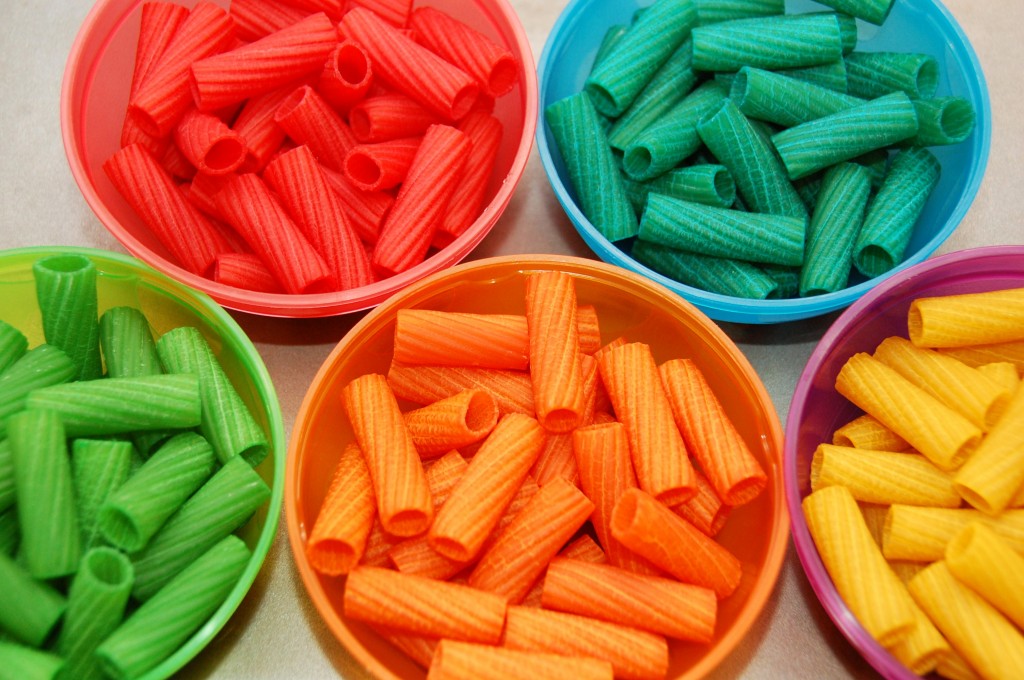 All the kids seemed to really like this craft.  I haven't ever done bead stringing with Alethea, so I wasn't sure how she'd do, but she was able to do it all by herself and thought it was enjoyable enough that today she sat down and used the leftover pasta to make more necklaces for her friends.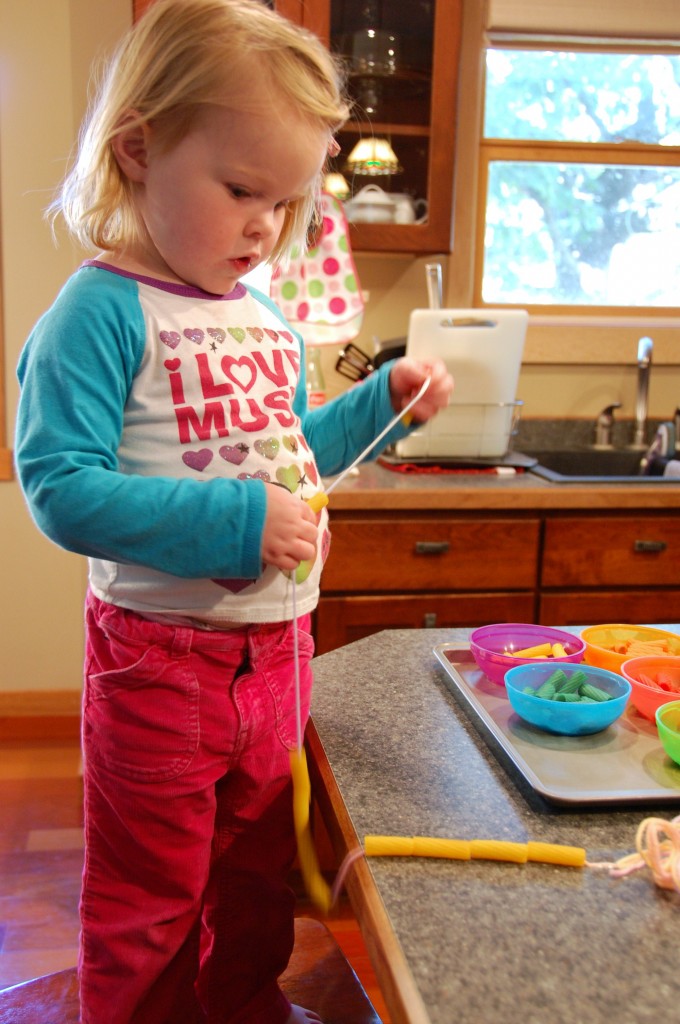 The last activity of Favorite Foods Day was to eat our very special snack.  Can you guess what it was?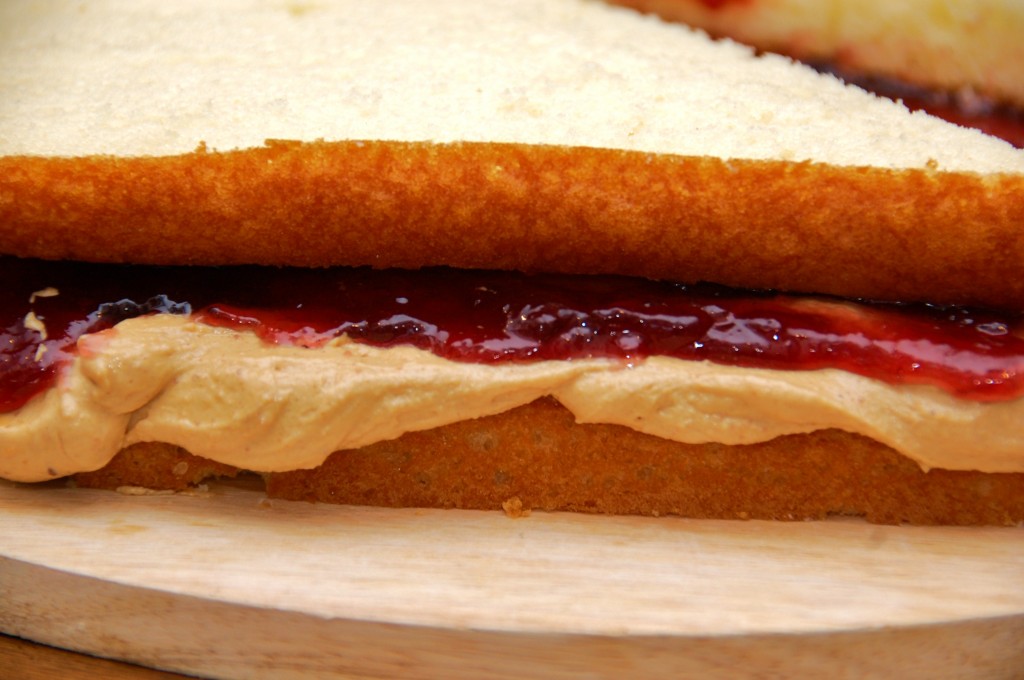 If you said, "Peanut butter and jelly sandwiches," you'd almost be right.  It was in fact, a Peanut Butter and Jelly Sandwich Cake!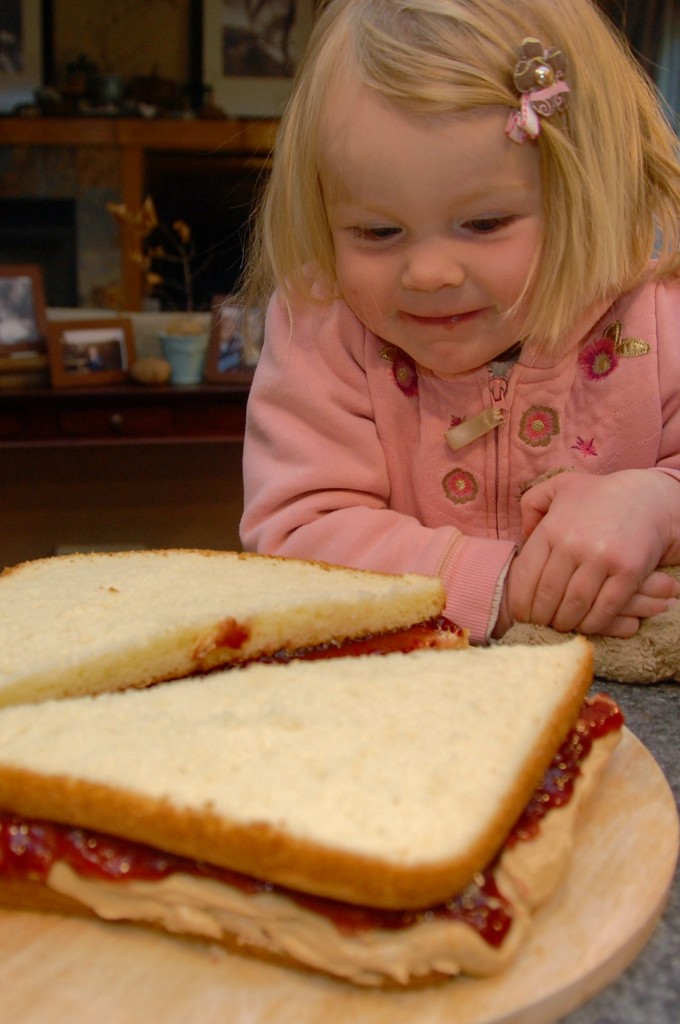 My friend Pearl sent me this great recipe and I knew it would be perfect for our Favorite Foods Day.  Alethea helped me make the cake and Lydia taste tested the peanut butter frosting.  When she was done, she held out her spoon and said, "More frosting!" which I think roughly translates to "Two thumbs up!"  Of course, Alethea (Dee and Lullaby too) were anxious for our friends to arrive so that the eating could begin.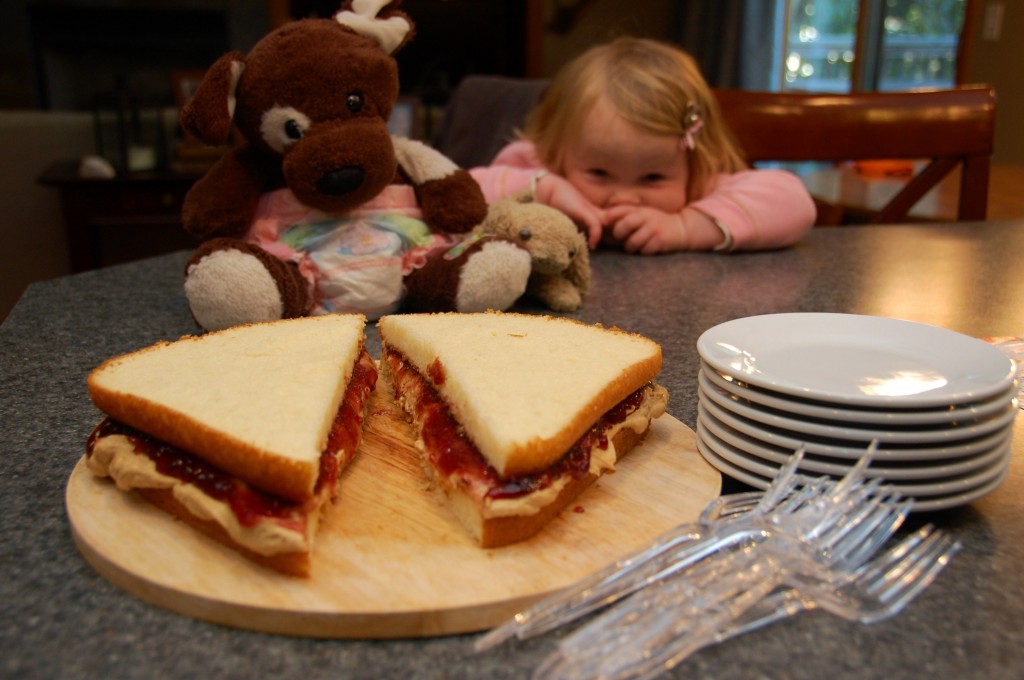 So that concludes our September playgroup adventures.  On the docket for October are Castles, Monkeys, Autumn and a trip to the Children's Museum.  Good times!