For my birthday a couple weeks ago (ack, I'm 29!) Peter gave me this immersion blender: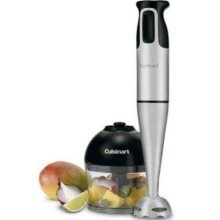 Tonight I used it to make my favorite soup and man, did it ever make this recipe so much easier.  No more transferring hot soup batch by batch into the blender and ending up with a huge mess in the kitchen.  All it took was a few seconds with my new toy and the soup was ready to eat.  I love it!
I was going to take pictures of how good this soup looks in the bowl, but since our camera battery is dead and I couldn't find the charger, you'll have to take my word for it.  It's such a pretty shade of orange!
Sweet Potato and Red Pepper Soup
2 red bell peppers (about 8 oz), seeded and cubed
generous 4 cups diced sweet potatoes
1 onion, roughly chopped
3 large garlic cloves, minced
1 1/4 cups dry white wine
1 1/4 quarts (5 cups) vegetable or chicken stock*
Frank's RedHot sauce
salt and freshly ground black pepper
* I usually use chicken stock for the flavor, but to make the soup vegetarian, use vegetable stock.
Put the red pepper, sweet potatoes, onion, garlic, wine and stock into a large sauce pan or stock pot and bring to a boil. Lower the heat and simmer for 30 minutes or until all the vegetables are soft.  Transfer the soup in batches to a blender (or use a handy immersion blender!) and process until smooth.  Season to taste with hot sauce, salt and pepper.  Transfer to individual bowls and garnish with a dash or two (or ten) of hot sauce.
Peter and I enjoy this with lots of hot sauce, but you can tone it down if you like.  It's fantastic served with crusty bread or Roasted Garlic Triscuits.