A couple weeks ago a friend of mine was organizing the decorations and treats for a bridal shower at church.  After detailing all of the adorable decor plans and other delights that were being cooked up, she said, "Would you bring something chocolate to nibble on?  I know you'll come up with something great."  Flattering, to be sure, but just a bit of pressure because I knew she wasn't asking for a simple pan of brownies.  So with a busy week ahead, I did the only thing I could do and headed to Pinterest looking for a quickly thrown together chocolate dessert, but one that didn't LOOK quick and easy.  The only thing I could come up with was some "easy chocolate truffles", but since our dear friend Martha was the source of said recipe, I had my doubts about the "easy" part.  I decided to not think about it any more until I absolutely had to, hoping inspiration would strike.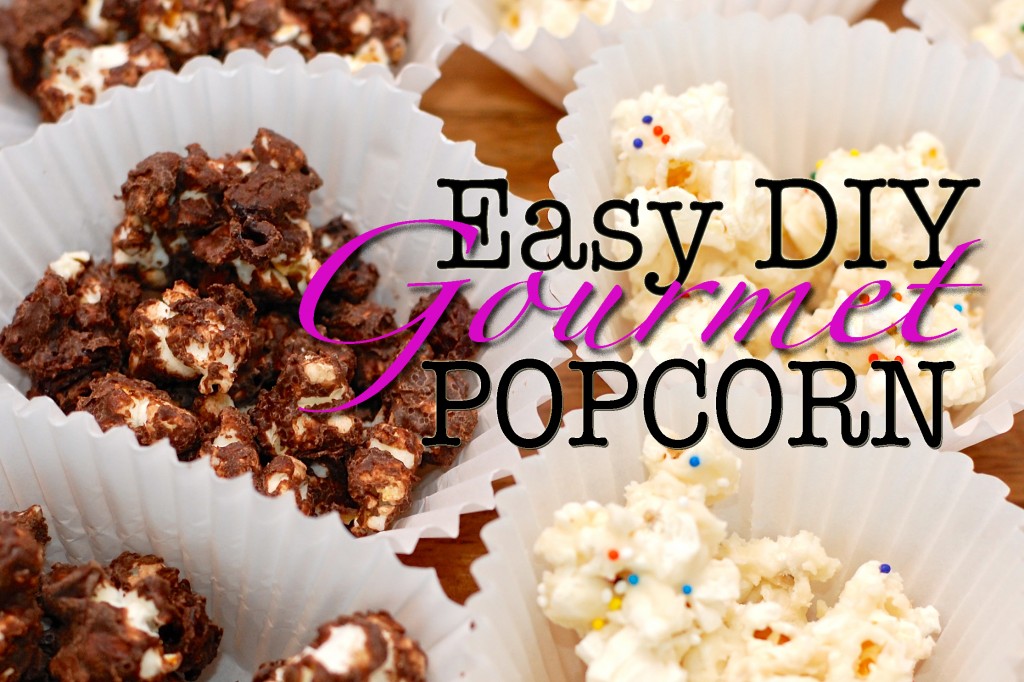 Well, sometimes fortune favors the procrastinator, because come Thursday morning, three days before the shower, a wonderful neighbor of mine brought Cake Batter Popcorn for our playgroup snack that week.  It was cute, it was delicious, and she said it was the simplest thing ever to throw together.  It was like the heavens opened, angels were singing, bells ringing…. and I knew right then and there, I don't have to try to make Martha Stewart truffles!  Hallelujah!  HALLELUJAH!
Here's the heaven-sent recipe my friend gave me…
CAKE BATTER POPCORN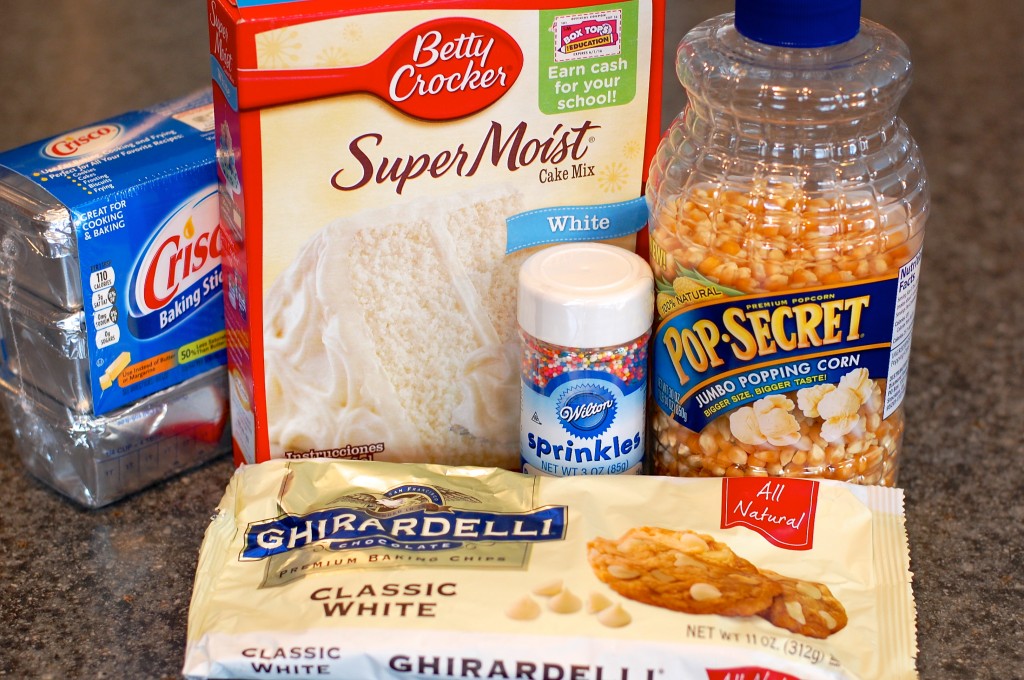 Ingredients:
One 11oz bag white chocolate chips
1/4 cup vegetable shortening
1 1/2 cups dry white or yellow cake mix (about half a standard boxed mix)
8-10 cups popped popcorn
1/4 cup sprinkles
Directions:
1. Melt the chocolate chips in the microwave by putting them in for 30 second intervals, stirring between each, until the chocolate is fully melted.
2. Add the vegetable shortening to the melted chocolate, and stir until it is melted together. (You can put it back into the microwave for a few seconds if you need to.  The runnier the mixture is, the better!)
3. Working quickly stir the cake mix into the chocolate mixture.
4. Immediately pour coating over the popcorn and toss together to coat evenly.
5. Spread popcorn out on cookie sheets to cool/harden and immediately sprinkle with your choice of sprinkles.
6.  Wait until hardened and then enjoy or transfer to an airtight container for storage.
It really is as simple as that!
Once I'd successfully accomplished the Cake Batter Delight, I decided to try my hand at altering the recipe to achieve a different flavor.  Here's what I came up with:
CHERRY BROWNIE BATTER POPCORN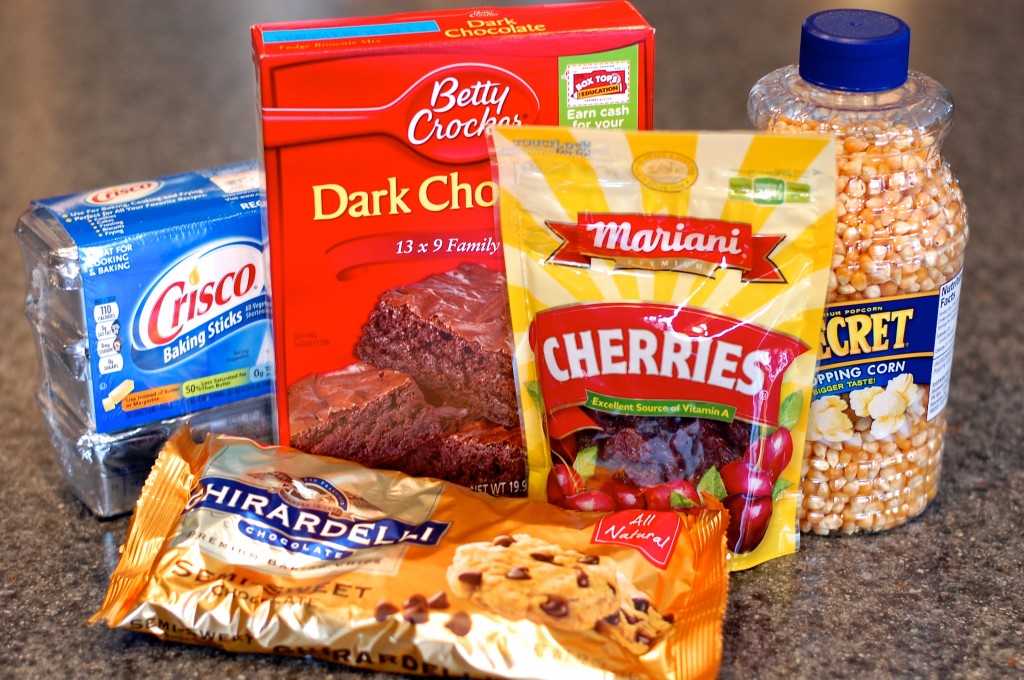 Ingredients:
One 11oz bag semi-sweet chocolate chips
1/4 cup vegetable shortening
1 1/2 cups dry brownie mix (about half a standard boxed mix)
8-10 cups popped popcorn
One 5 oz bag dried cherries
Following the same six steps I did for the Cake Batter Delight, I threw together Cherry Brownie Batter Bliss, an equally decadent treat.
After they were both prepared (and had gone through rigorous quality control testing!) I portioned them out into jumbo muffin paper baking cups and took them to the shower.  Yum!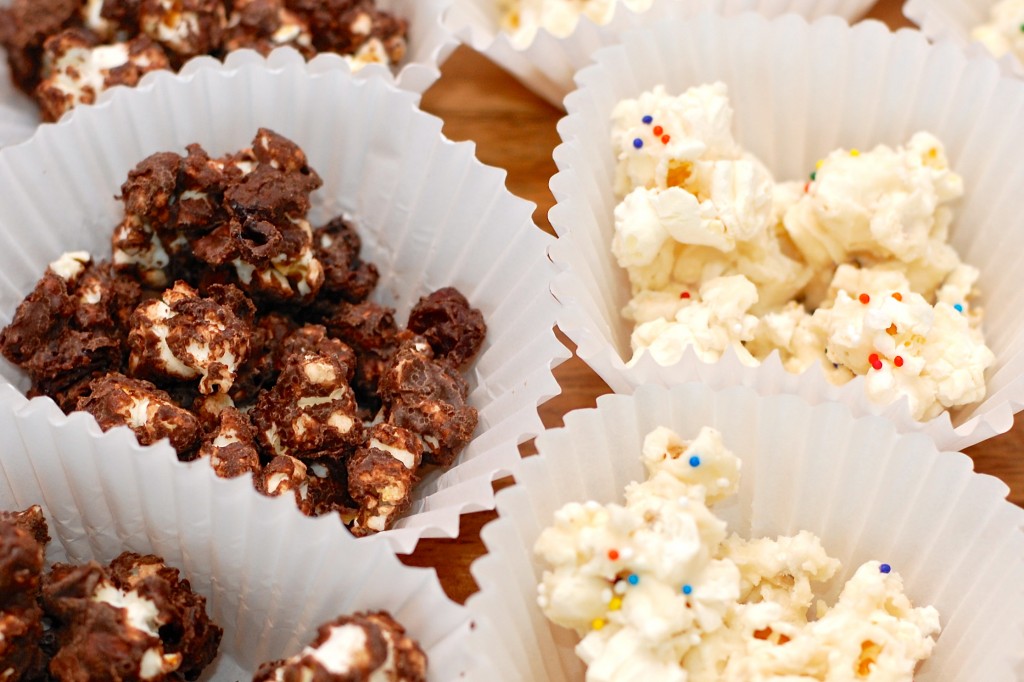 Both treats were delicious, hard to decide which one was better, I was leaning toward the brownie batter, but Peter (who helped with the quality control) was completely in favor of the cake batter variety.  Makes me want to do some more experimenting, because the possible permutations of this recipe are virtually endless.  I haven't yet tried any other variations, so attempt at your own risk, but I don't see why you couldn't build your own recipe like this…
PICK YOUR OWN FLAVOR POPCORN
Ingredients:
One 11 oz bag candy chips (white, milk, dark chocolate, mint, butterscotch, etc)
1/4 cup semi-solid oil (vegetable shortening, peanut butter or coconut oil)
1 1/2 cups dry cake (chocolate, white, red velvet) or cookie (sugar, snickerdoole) mix
8-10 cups popped popcorn
1/4-1/2 cup candy, nuts, sprinkles or dried fruit pieces
Combine ingredients using the same steps as the above recipes.
I'm thinking dark chocolate chips with coconut oil, chocolate cake mix and flaked coconut for an Almond Joy Popcorn, or milk chocolate chips with peanut butter, brownie mix and chopped up Reese's Peanut Butter Cups for Chocolate Peanut Butter Explosion.  (Can someone get me a job naming ice cream flavors, please!?!) You might be even be able to do seasonal flavors like for autumn using a spice cake mix and candy corn, or Christmas with some white chocolate chips and peppermint bits.
Okay, so now that you are inspired (and maybe hungry) please leave a comment letting me know what flavor combination YOU would choose!