So sorry to suddenly drop off the face of the blog planet.  The weather has FINALLY turned here in Minnesota and the girls and I have been spending every free minute outdoors.  That added to Peter's birthday, Mother's Day and the fact that our fence is being installed (yes, we are actually getting the long awaited fence) has added up to not much time for blogging.
But I'm back this evening, blogging from my front porch.  The birds are singing and the bugs haven't started biting yet.  Oh how I adore spring!  Baby animals chattering, flowers and plants poking out, I'm in love with all the world.  Except for the rabbit that ate four years worth of growth off my Trillium.  That bunny can die a long, slow, painful death from all of the Lily of the Valley that he also greedily devoured.  But other than him, yes, I'm in love with all the world.
Anyhow, enough about the weather.  Back at the end of April, we had Alethea's birthday party.  Lately she has been enjoying the Frances books by Russell Hoban, particularly A Birthday for Frances.  Thus her request for a "Frances party".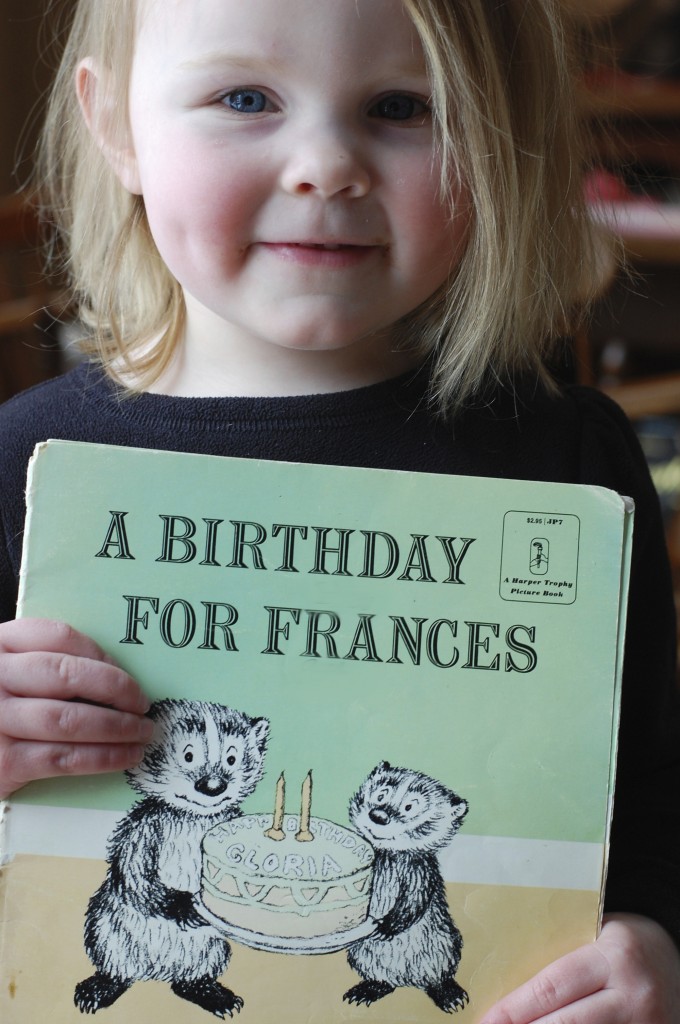 For those of you who don't know, Frances is a badger and the books were written in the 1960s and 70s, so not the sort of theme where you can just run into Party City and pick up a bunch of theme appropriate paper goods.  Instead, I used the color scheme from the book's cover (pink and green), and taking as many cues from the book as possible, here's what I came up with for invitations, decor and favors:
After last year's bumblebee extravaganza, which was super fun, but also a bit crazy, I decided to go for a much smaller, mostly family guest list and I e-mailed out the invites instead of getting them printed up.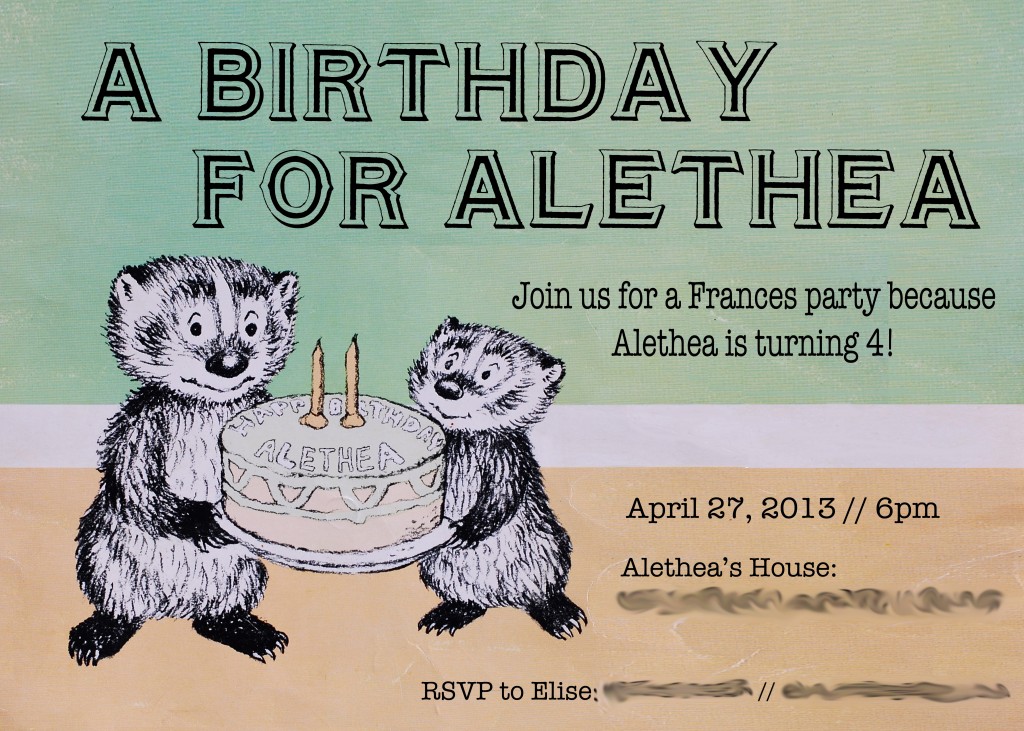 Peter gave me Photoshop Elements for Christmas two years ago and I think I'm just finally getting the hang of it.  I have to admit that I was almost giddy with pride when I managed to change the name on the cake from "Gloria" to "Alethea".  Photoshop rookie for the win!
With the guests invited, I moved on to the decor.  I knew I wanted something special on the mantle, but didn't want to totally revamp my spring decor, so I changed out my Easter chalkboard for a birthday themed one…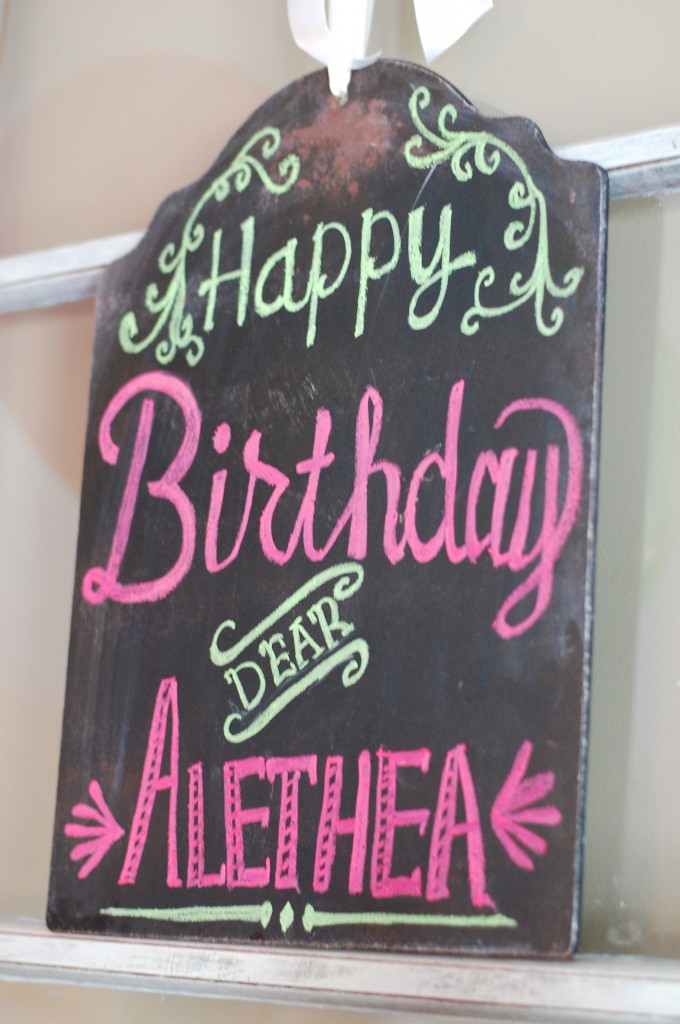 Also on the mantle was a balloon bouquet.  Alethea specifically requested a "Frances balloon" and I know she was thinking of a mylar balloon with a Frances badger on it, but since the only badger balloons I could find featured the slightly scary Wisconsin badger, I decided to go with the next closest thing, which was a plush badger holding balloons…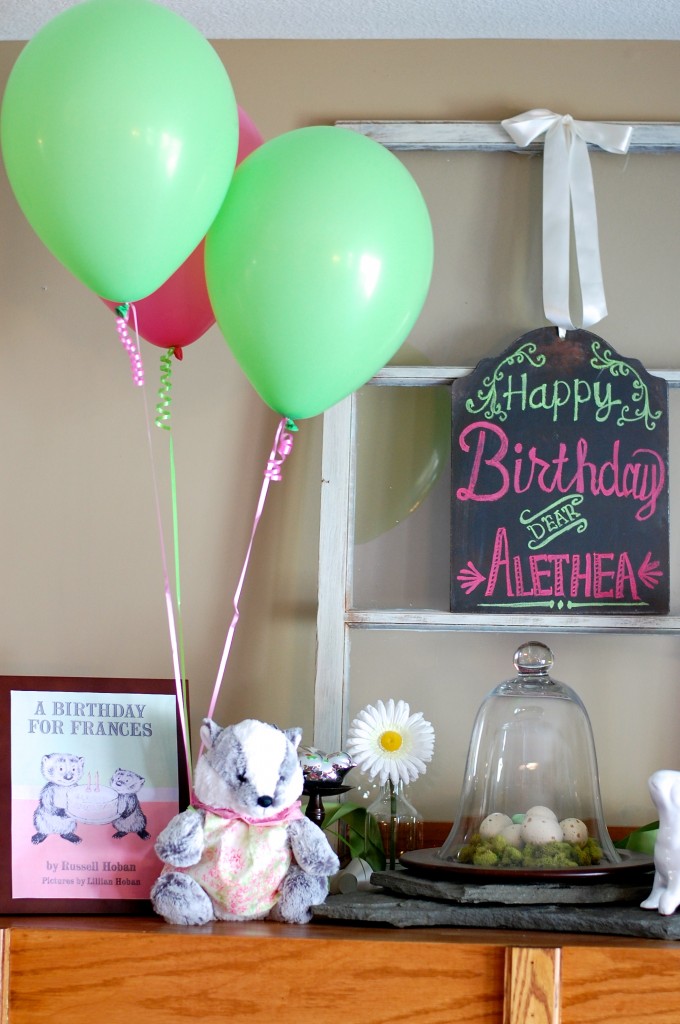 Alethea was very excited that Frances actually came to her party and was even wearing a custom made party dress thanks to Gramma Denny.  Frances appeared the morning of the party, but I told Alethea she had to leave Frances up on the mantle until she opened her presents.  So instead of playing with Frances, she stood looking up at her and said things like, "I'm so glad you're here, Frances.  You have balloons!  Two green and one pink!  We have more balloons over here, but these are MY balloons.  Those three are yours."  I always have to laugh when I listen in on Alethea's conversations with her stuffed friends.  Those plush animals are so very real to her right now.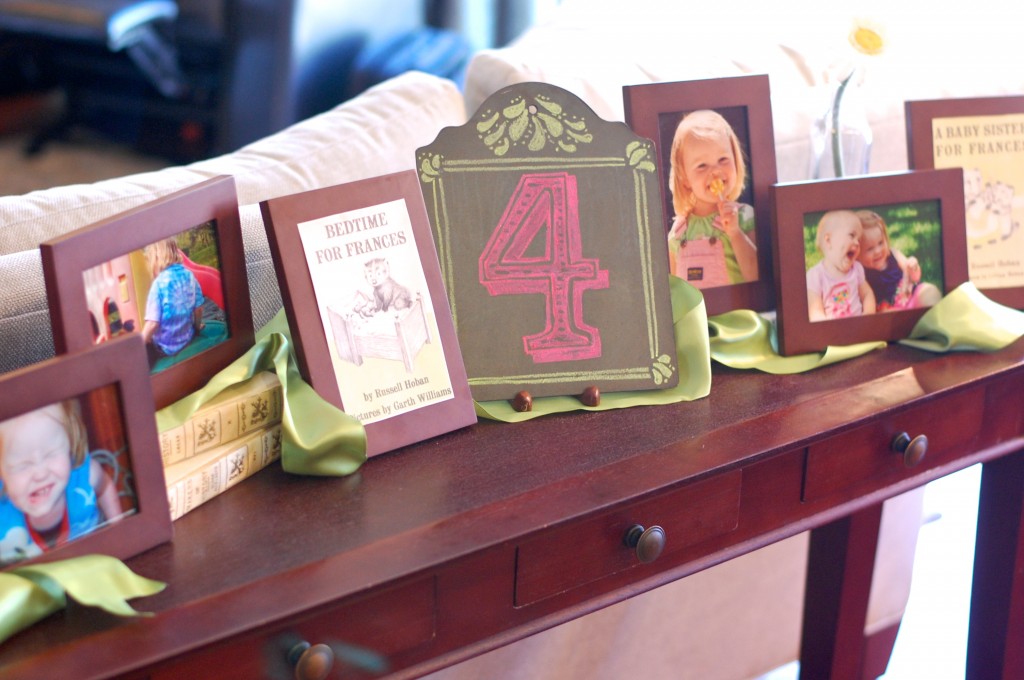 This year's memory table (aka the console table behind the couch) held the usual assortment of pictures from the previous year, as well as another chalkboard and two Frances book covers that I printed out for the occasion.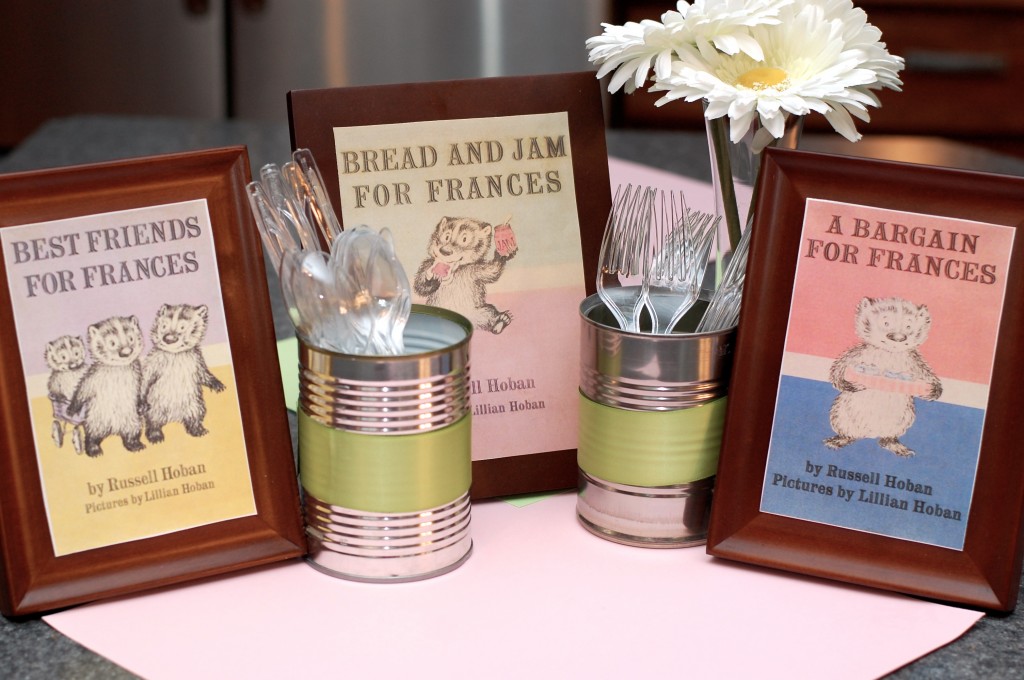 The food and beverage stations featured more Frances book covers.  The menu for the evening was spaghetti and meatballs and peanut butter and jelly sandwiches.  If that menu sounds a bit odd, it might be because you've never read Bread and Jam for Frances, in which case, let me recommend that you do so, because it is one of the best children's books of all time.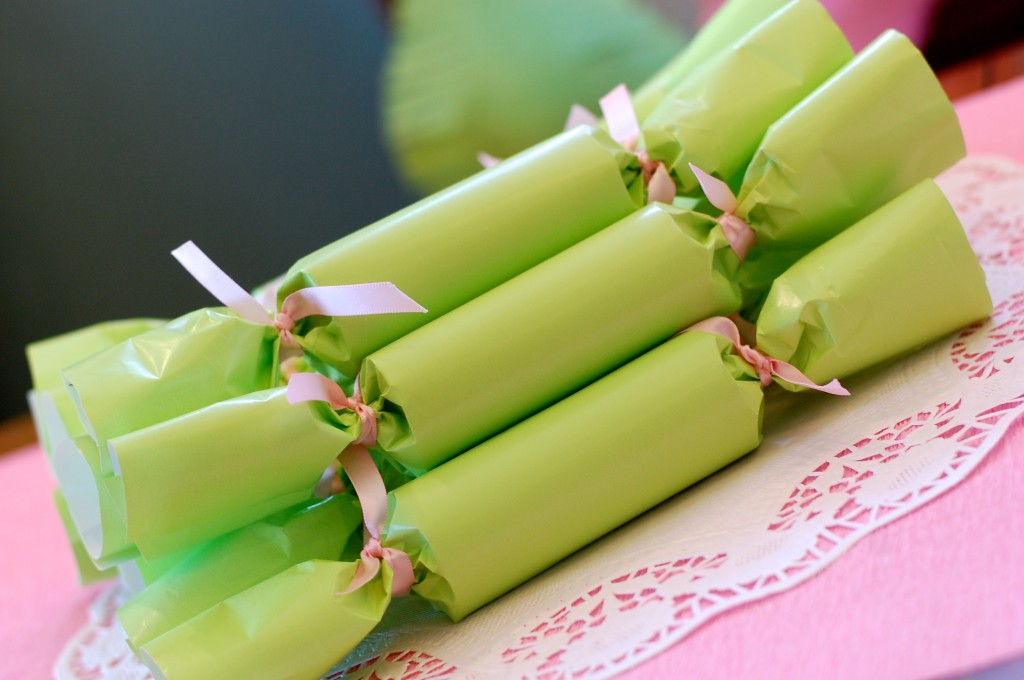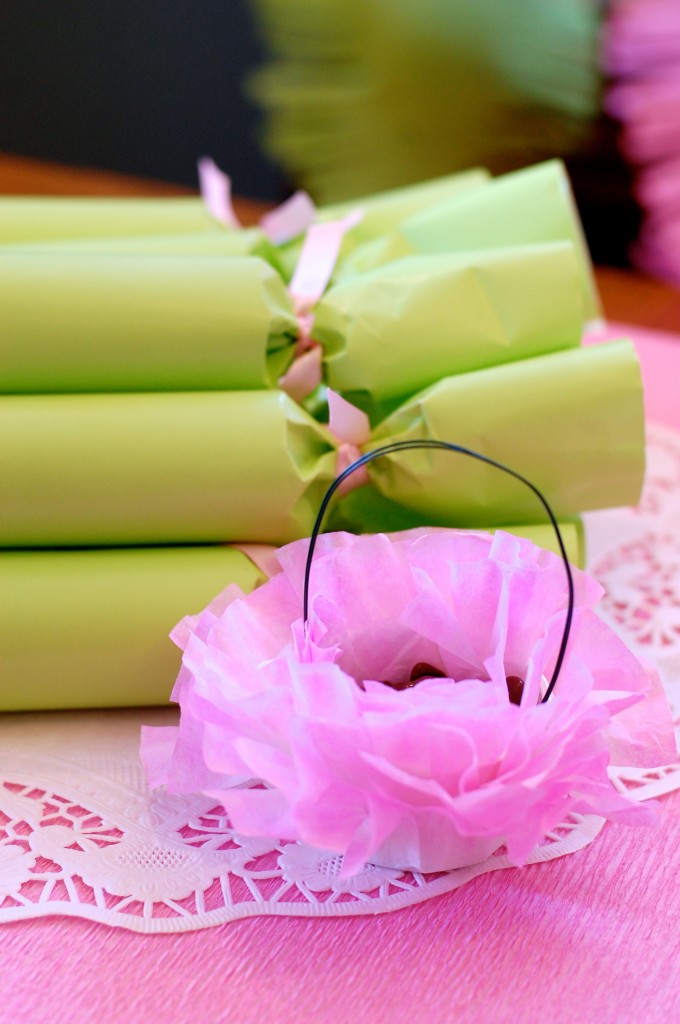 I took the favor ideas straight out of the book, which were party poppers and little baskets of gumdrops and chocolate covered raisins.  (Actually in the book they are chocolate covered peanuts, but choking hazards and kids birthdays aren't a great mix.)  I DIYed the baskets using these instructions.  And my neighbor and I put together the party poppers with these supplies…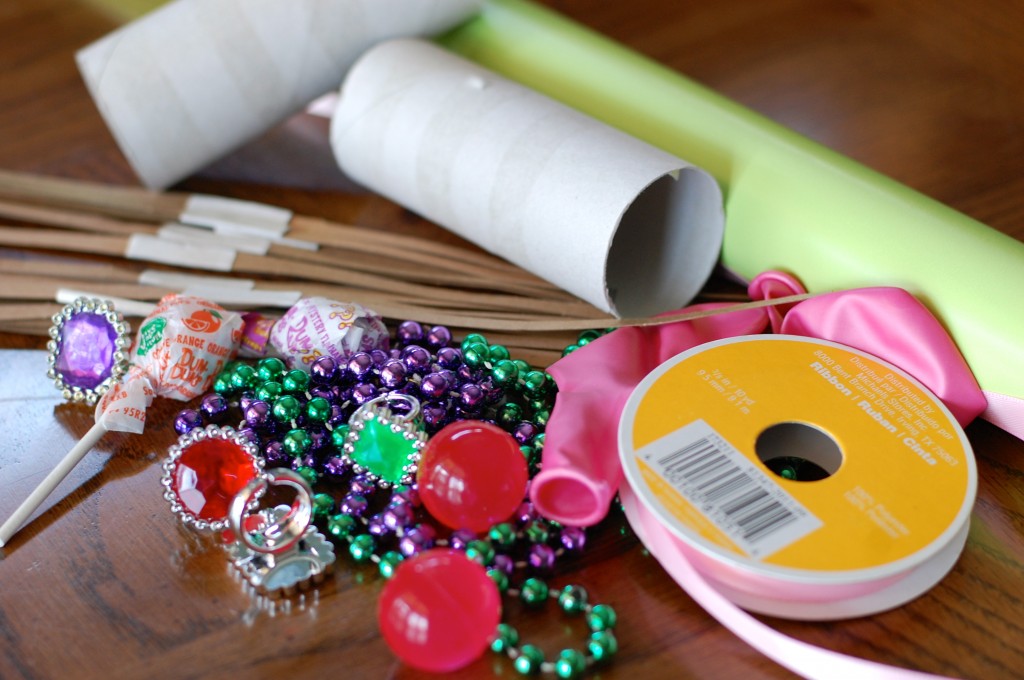 I found a place online to buy the cracker strips.  They weren't as loud as I thought they'd be, more of a 'pop' than a 'bang', but maybe that was a good thing.  In the end I think we used too much tape to hold everything together, so they were a little hard to pull apart.  The kids didn't seem to care though, they were mostly interested in the goodies inside.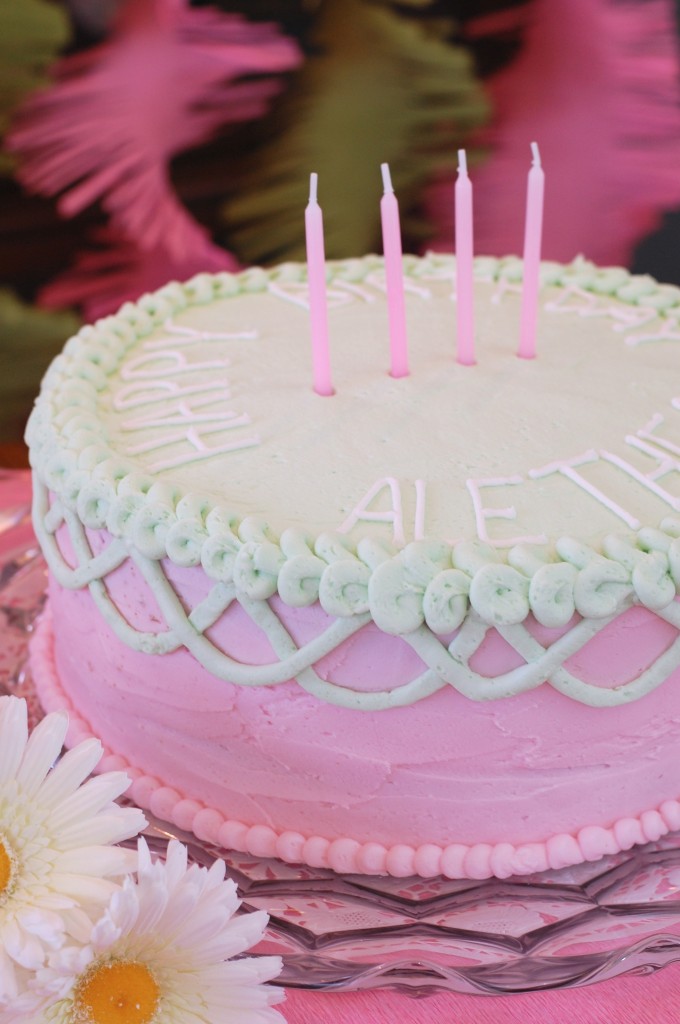 Another of Alethea's requests was a cake "just like the one in the book".  I knew I'd never survive all that piping, so I had my friend make the cake and she did an absolutely amazing job.  It was beautiful and also gynormous since she used two 12 inch rounds!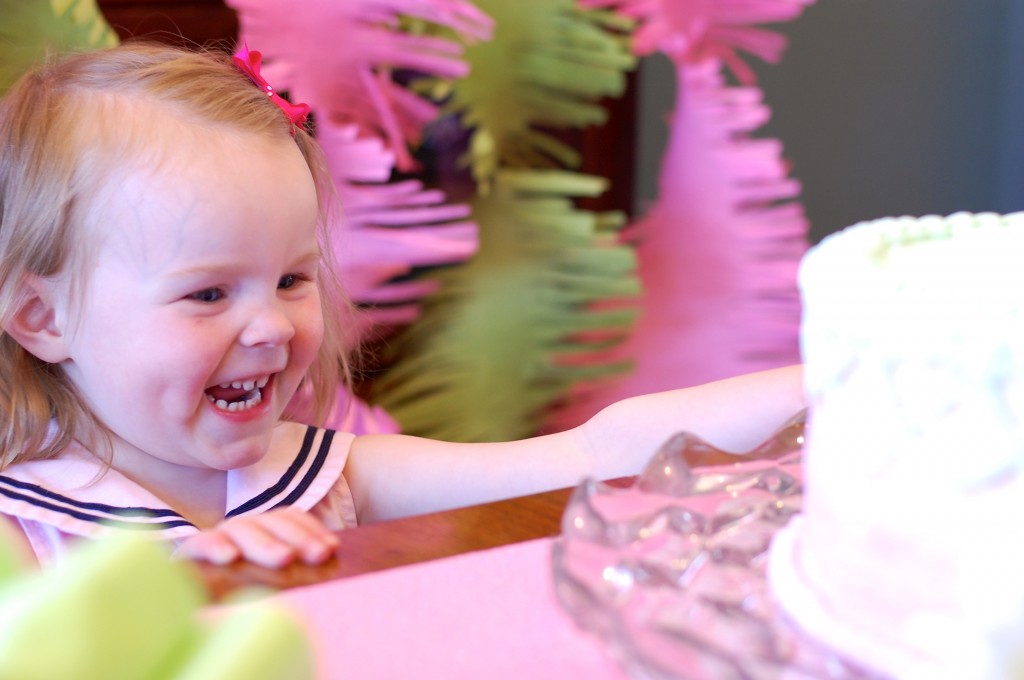 Alethea was quite pleased with the end result!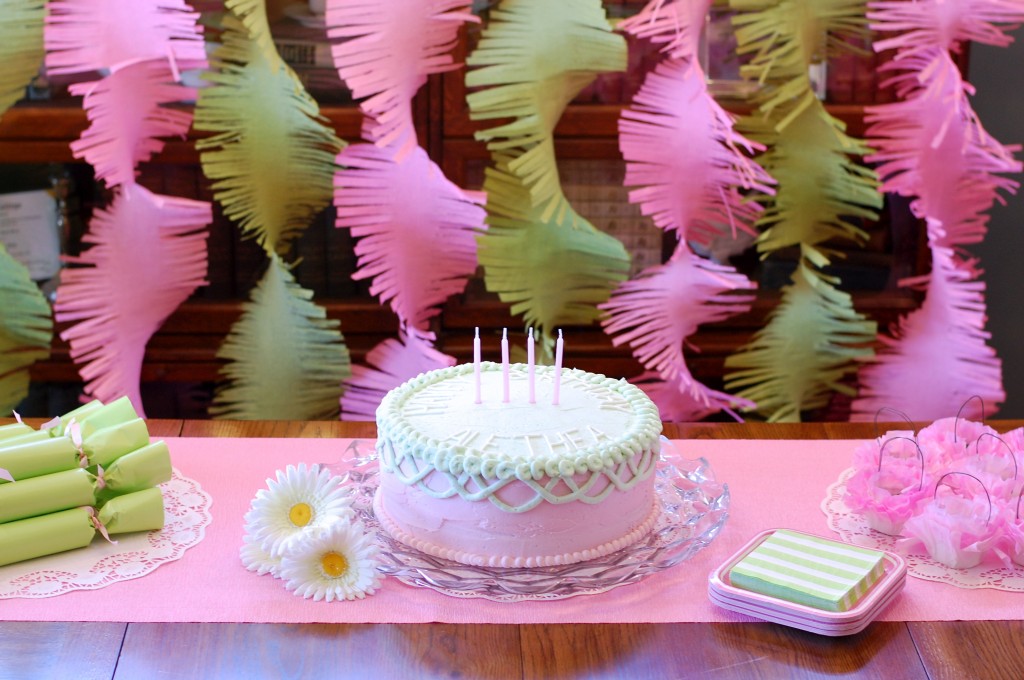 And here is what the cake table looked like once I got everything put together.  (Plates and napkins from Target, doilies and oversized pink candles from Party City, big fringe streamers DIYed using instructions here.)
Whew!  There you go, my best attempt at a Frances the Badger birthday theme.  And now, since this post is already way too long and it's getting late, I'll have to get the actual party pics up later, but never fear, they are coming.
Thanks for stopping by to share in the fun!
To view more BobbleHeadBaby celebrations, visit my Parties Page!