Having a "Where in the world does the time go?" moment here. I was just trying to figure out when I last posted pictures of the nursery. Turns out it was my second ever post, back on April 5, 2009, a few days before Alethea's due date and three weeks before she was actually born. Back then the nursery looked like this: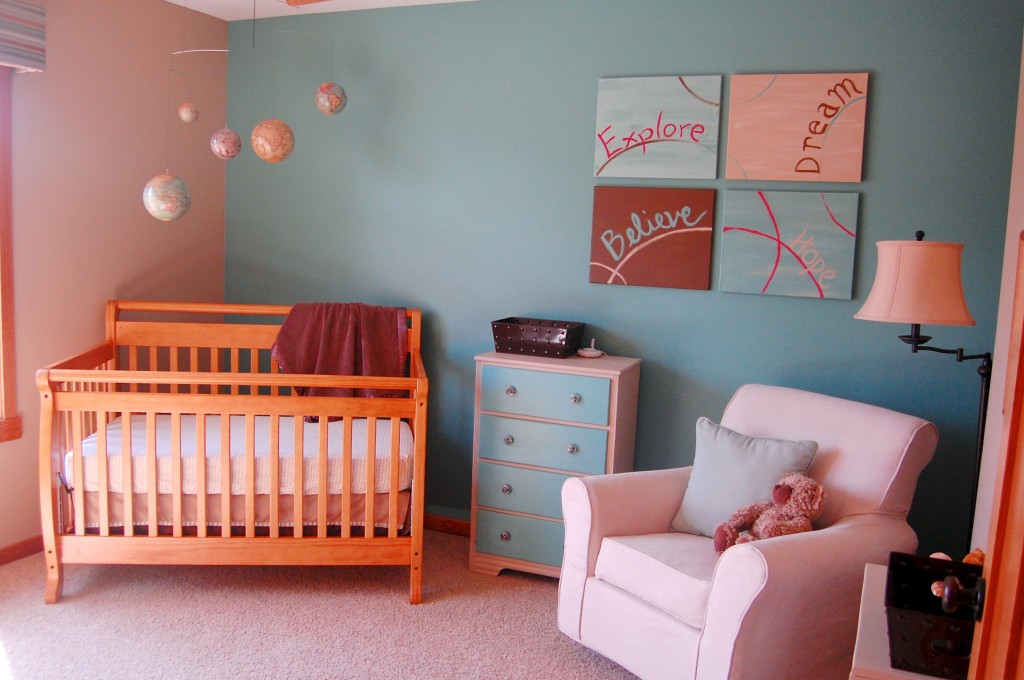 The starting point for the room was the globe mobile over the crib. The color scheme (Nomadic Desert and Composed by Sherwin Williams) seemed cute enough for a nursery, while not being gender specific. My thought being that we might have a boy someday and it would be nice not to have to re-do the whole nursery when and if that happened.
Of course, our second baby was a girl, so not much changed for Lydia other than a new paint job on the dresser and a few new accessories:
This time though, it's a boy, which means this nursery needs a few more changes. Although part of me would love to toss everything out the window and start over from scratch (I'd definitely pick a different crib if I could go back and do it all over again), there is no way the frugal part of me is going to spend the money, and if I'm honest with myself, I know I really have a million more important things to do than repaint the whole room.
So with that in mind, we will be keeping all the major pieces in the room (the crib, chair, dresser, bookshelf, changing table, lamp, mobile, and wall colors are all staying), and I'll be making the look a little more "boy" with a touch of navy blue, olive green, and some new accessories. Here's the mood board I cooked up: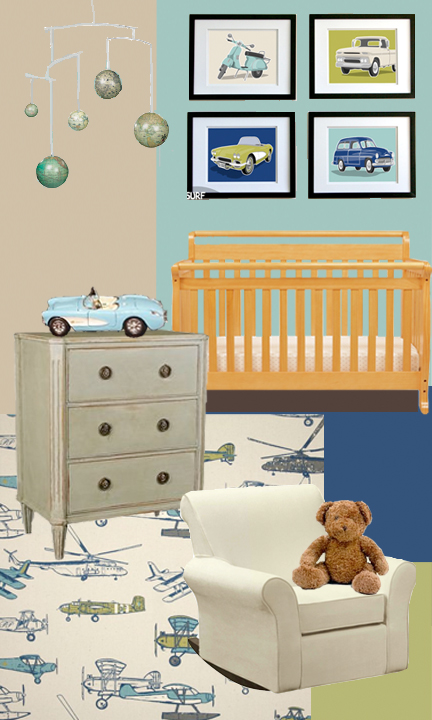 And here's the to-do list that goes with it:
1) Buy/Make Art
I'm totally in love with these prints from PaperLlamas on etsy. You get to pick your four colors and four vehicles and they custom print them for you. I think they are completely and utterly perfect for the room, but given that we have to buy a new-to-us car before the baby arrives (one that can accommodate three car seats), budget is going to play major role in whether I go with these prints or try to DIY something similar by painting over the canvases that are already in the room. I guess we'll see how much we end up spending on the car.
2) Paint Dresser
I think this will be the fourth time in my life I've painted this particular piece of furniture, but I'm really excited about the idea of an olive green dresser in the room like the one pictured above. Current color I'm leaning towards is SW Rural Green (bottom right on the mood board).
3) Paint Bookshelf
There is a small bookshelf next to the rocking chair (you can see the top of it in the bottom right corner of the first photo). The paint job has gotten really beat up over the last two children, so I'm planning on painting it again. Maybe olive green too, or perhaps SW Commodore, which is the navy blue color on the mood board.
4) Make Curtains
The nursery has a blackout roller shade and a valance over the window, but it has never had curtains. I go back and forth on whether or not I think curtains are okay in a nursery, since I do worry about them getting pulled down on someone's head, but we've got floor length curtains in almost every other room in the house and none of them have come down yet. That and the fact that I found the adorable airplane fabric on the bottom left of the mood board means that this time around, there will be curtains!
5) Accessorize!
I don't have plans for too many accessories, but I do know that I will be buying and painting paper mache letters to spell out Bob's name over the changing table. And maybe some other car/train/plane/truck/map items will work their way in if I get inspired. Oh and Peter's mom and I are already making plans for the quilt that she's going to make!
So there you go, that's what I've been working on lately. What have you been up to?