This is a little later than I had intended, but I must share the details from Alethea's 5th birthday party. As requested by the birthday girl, we went with a Clifford the Big Red Dog theme. Some people who heard about the theme choice expressed surprise that Alethea was still interested in Clifford. While it's true that all things Frozen have recently become her obsession, Alethea still has a soft spot for Clifford in her heart.
Using my selected color scheme of red, yellow, blue, and white, I practiced my Photoshop skills and was pleased with how her invitations turned out.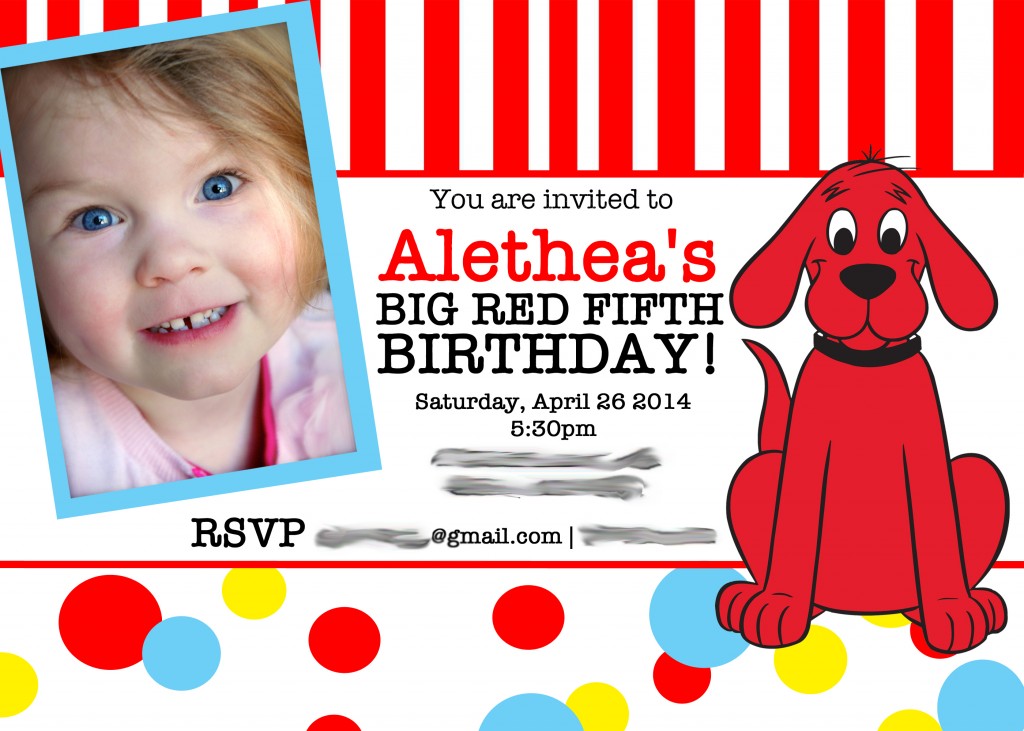 The cake table was covered with deliciousness including chocolate and lemon cupcakes, dipped pretzels, little cups of puppy chow, and the birthday girl's request… a giant bone shaped cake.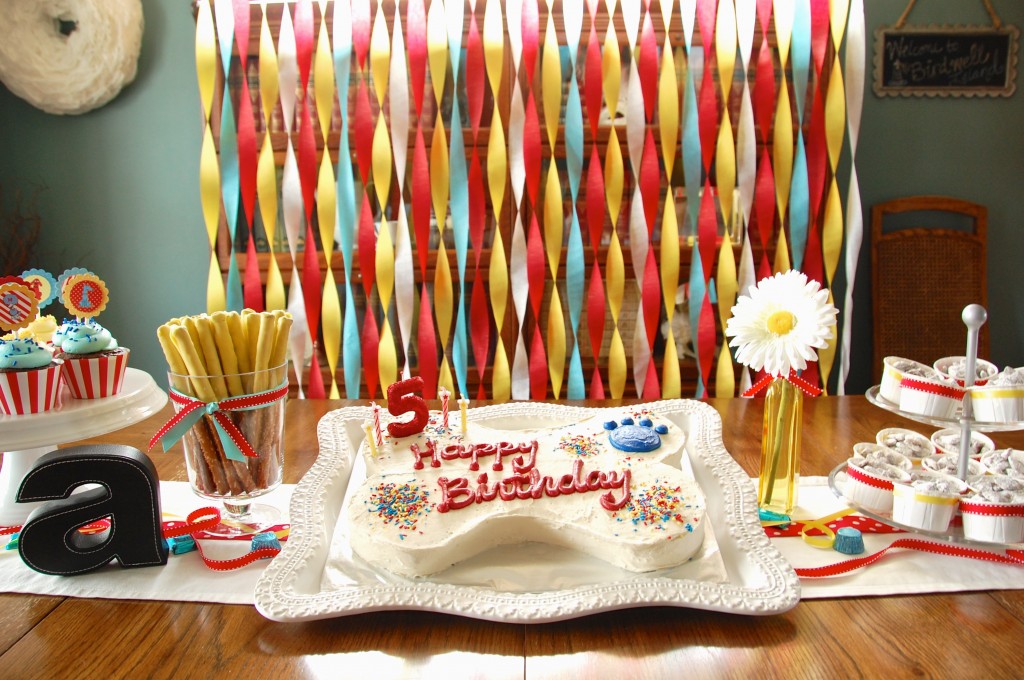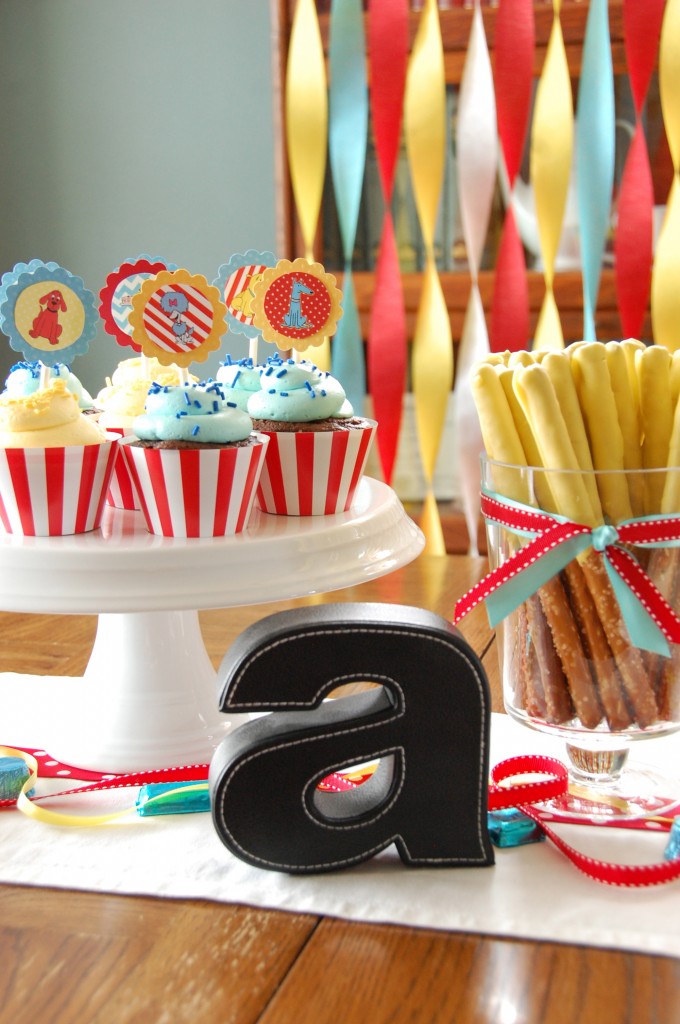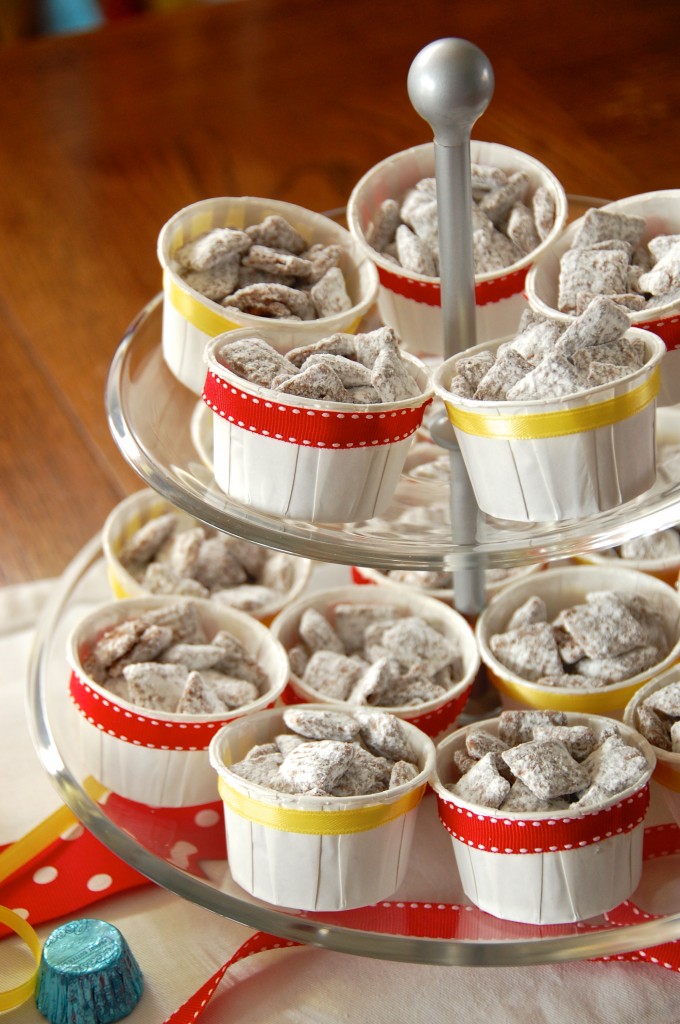 My friend Jen made the bone cake and another friend, Erica, made the cupcakes. Pure homemade scrupmtiousness all the way around. And did you see that I snagged a red "5" candle at Party City? I couldn't believe my good luck that the number I needed was in the perfect color!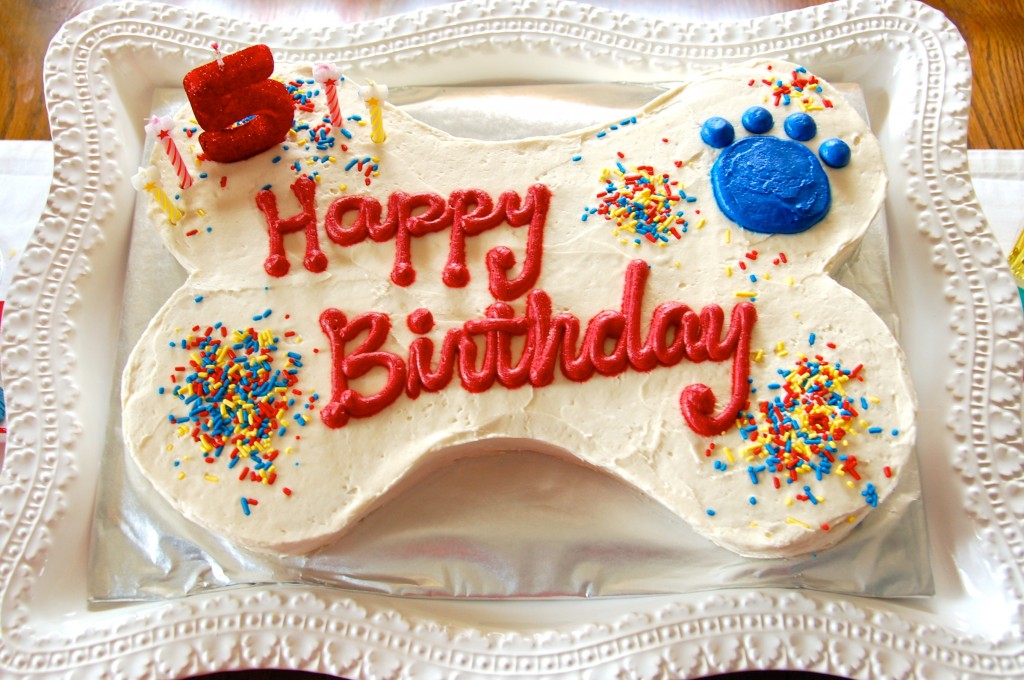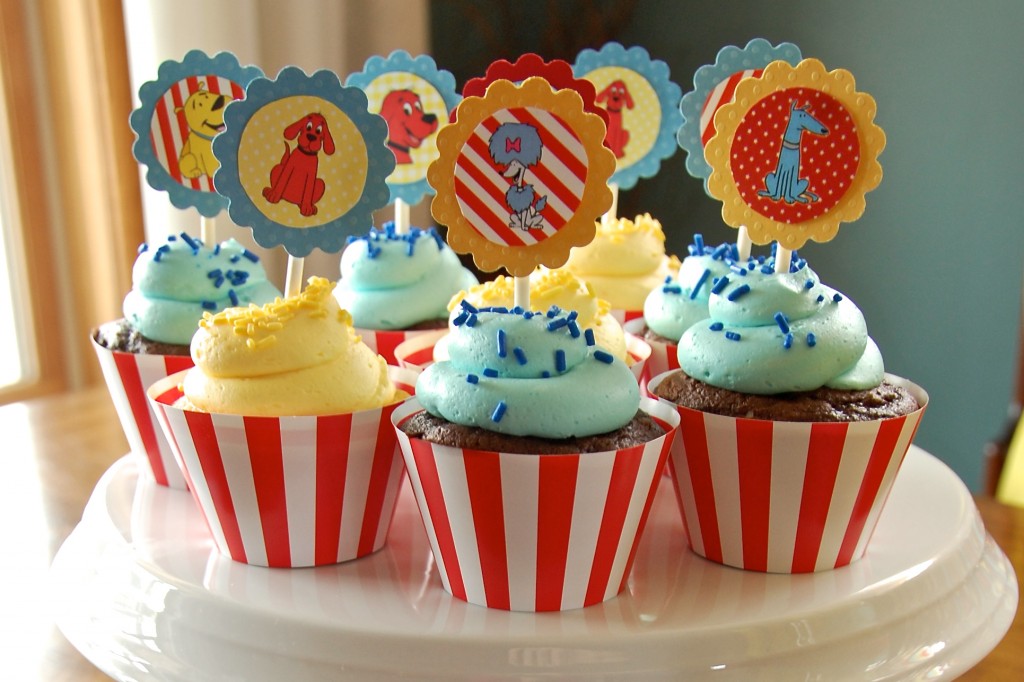 Clifford and his stuffed friends all attended the party. The paper hats were another Alethea request. A little tricky to get them to stay on, but don't they look festive?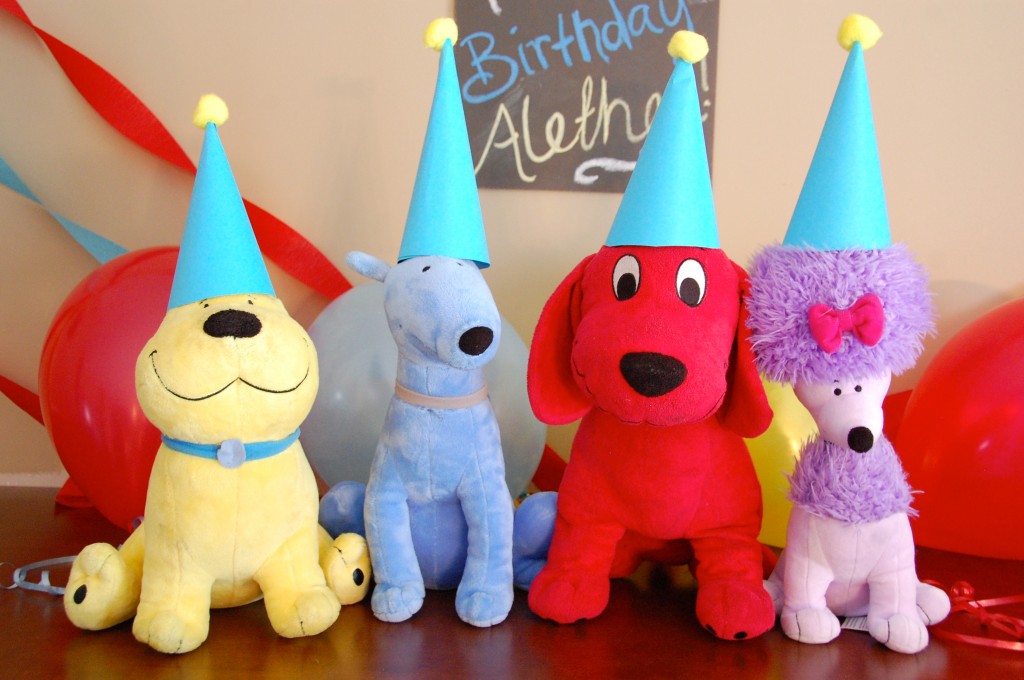 Alethea joined her pals up on the mantel for a quick photo op just as the party was starting. (I found out that it's hard to locate a red dress for a little girl in the spring, but was fortunate to track down Alethea's party outfit on eBay a few weeks before the big event.) If you look closely at the pictures, you will notice that Alethea's memory table this year featured photos from each of her past birthdays. Also, if you've got an eye for such things, you may notice one of the home improvement projects that has been keeping me busy this spring. I'll give you a hint, it rhymes with shmantel.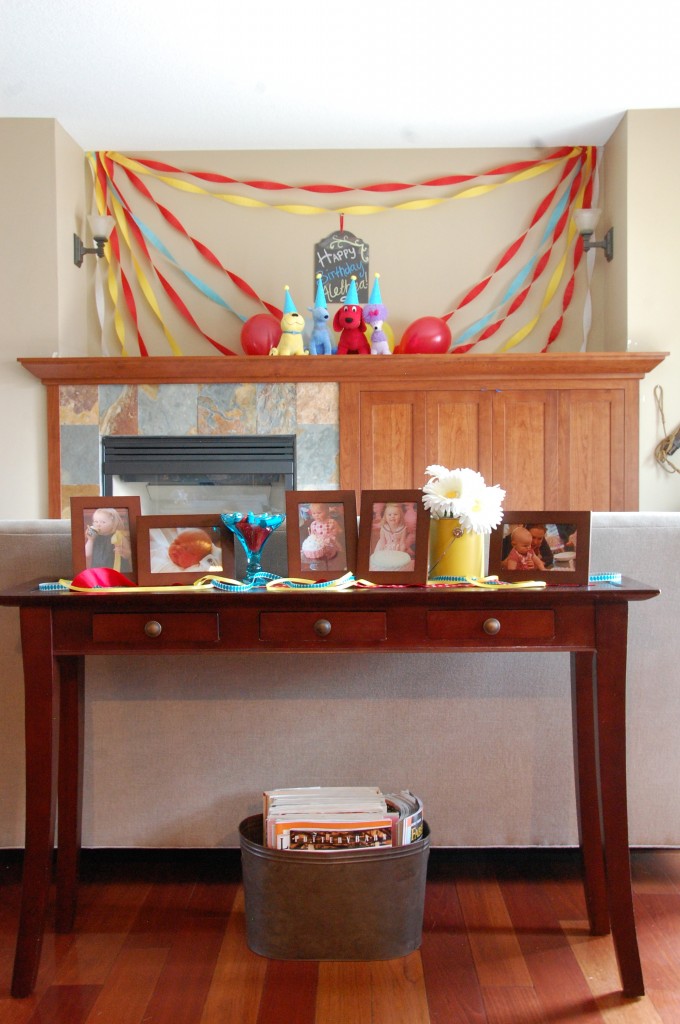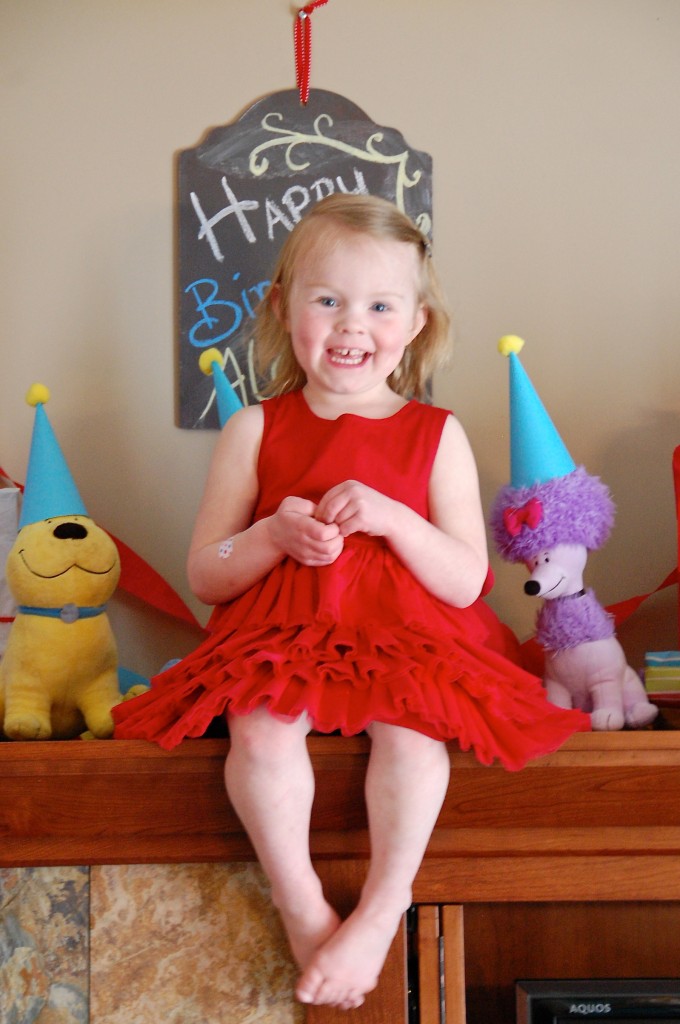 The party menu consisted of, what else, hot dogs, with plenty of toppings and sides. I did silverware wraps to make it easy to create a custom hot dog and carry utensils at the same time. The favor bags contained a variety of Clifford items (stickers, pencil and party blower) as well as generic items that fit the color scheme (bubble tube and candy).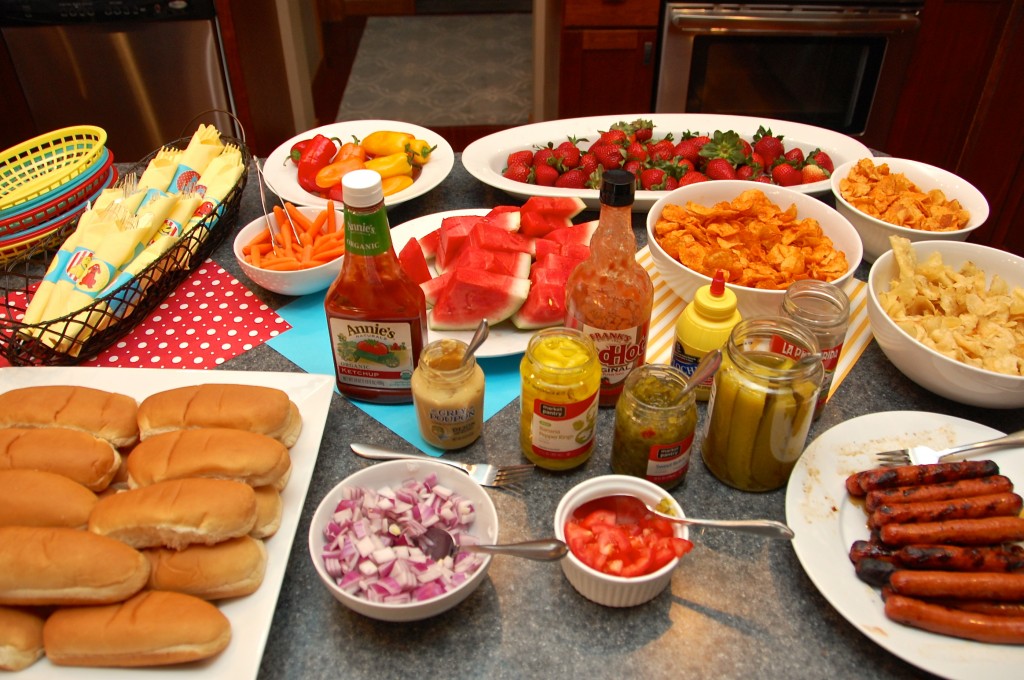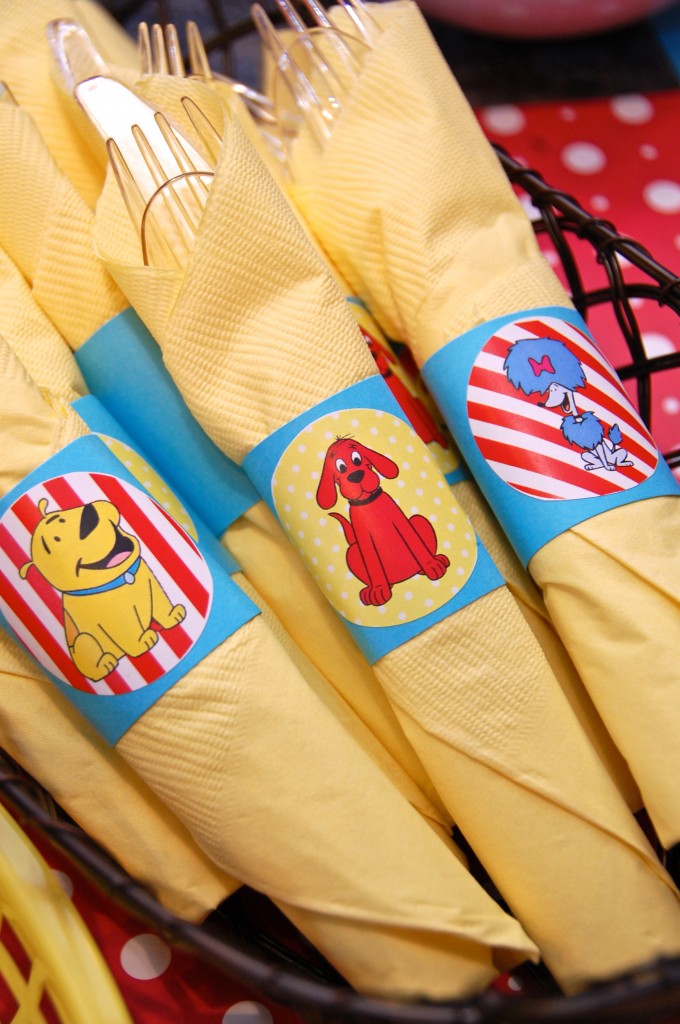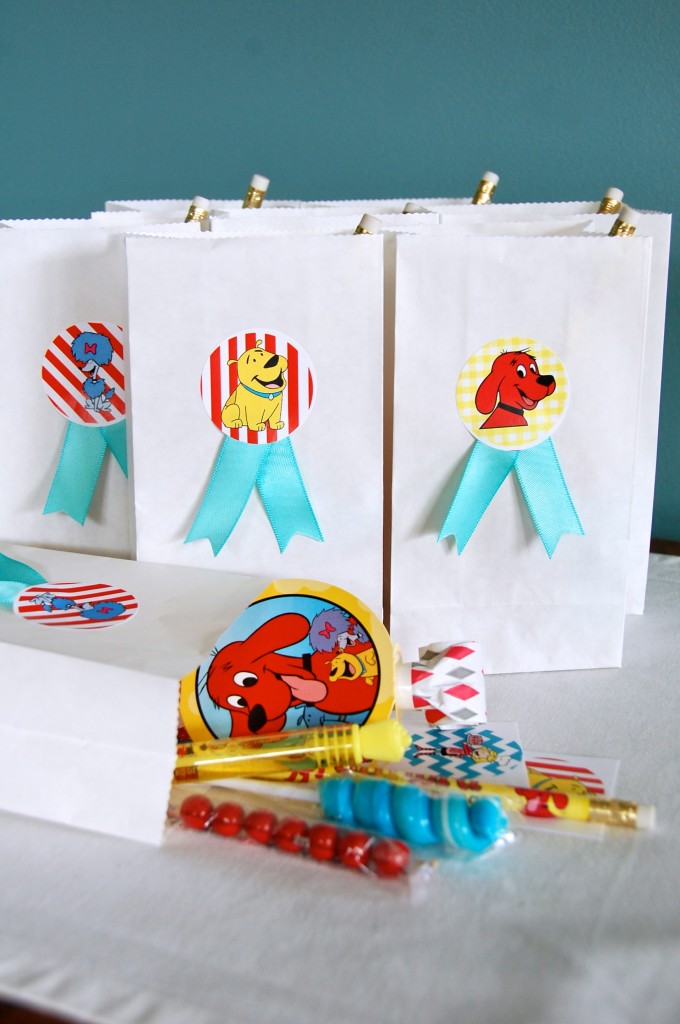 After everyone had full tummies, we moved on to opening presents. Alethea seemed to enjoy all her gifts, but Aunt Leah scored major points by giving her the light up LED unicorn Pillow Pet that she's been asking for since December. I think she's a rather homely unicorn myself, but Alethea is over the moon about her, and has lovingly dubbed her "Glowy".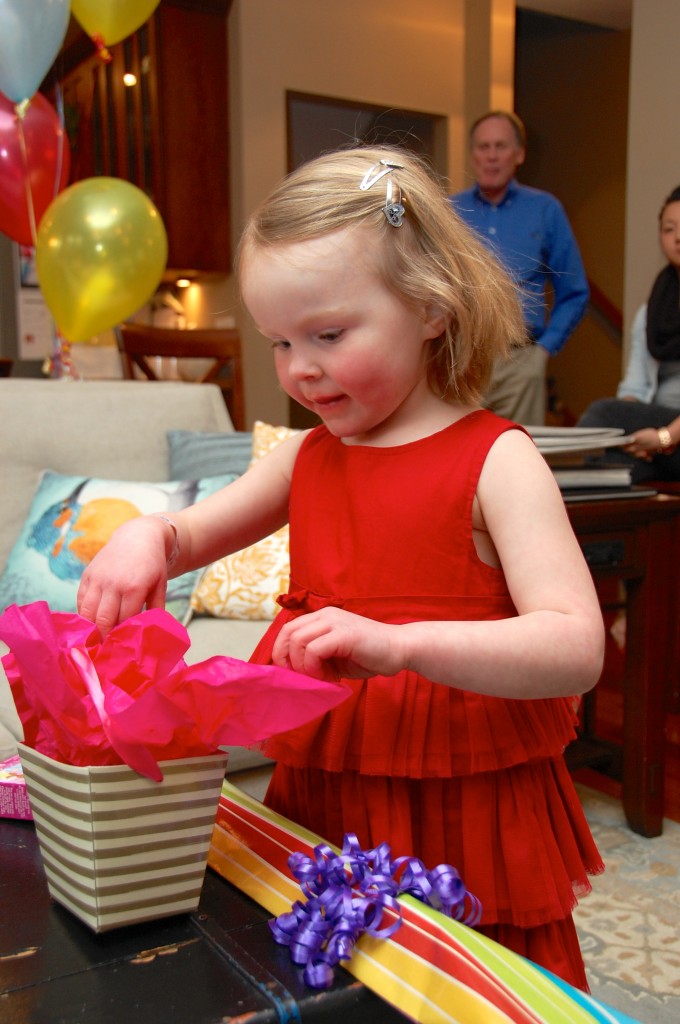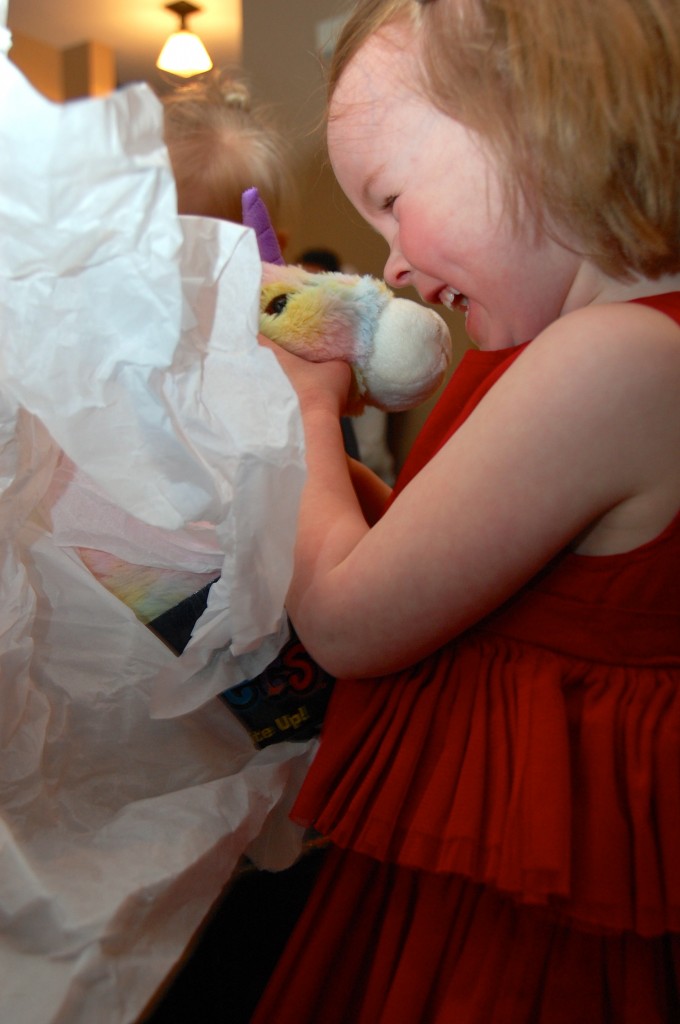 Once all the presents were opened, it was time for the cake. Alethea blew out all the candles and then decided that she wanted part of the paw print for her slice, which she ate along with a pretzel, some ice cream, and a cup of puppy chow. Sugar rush!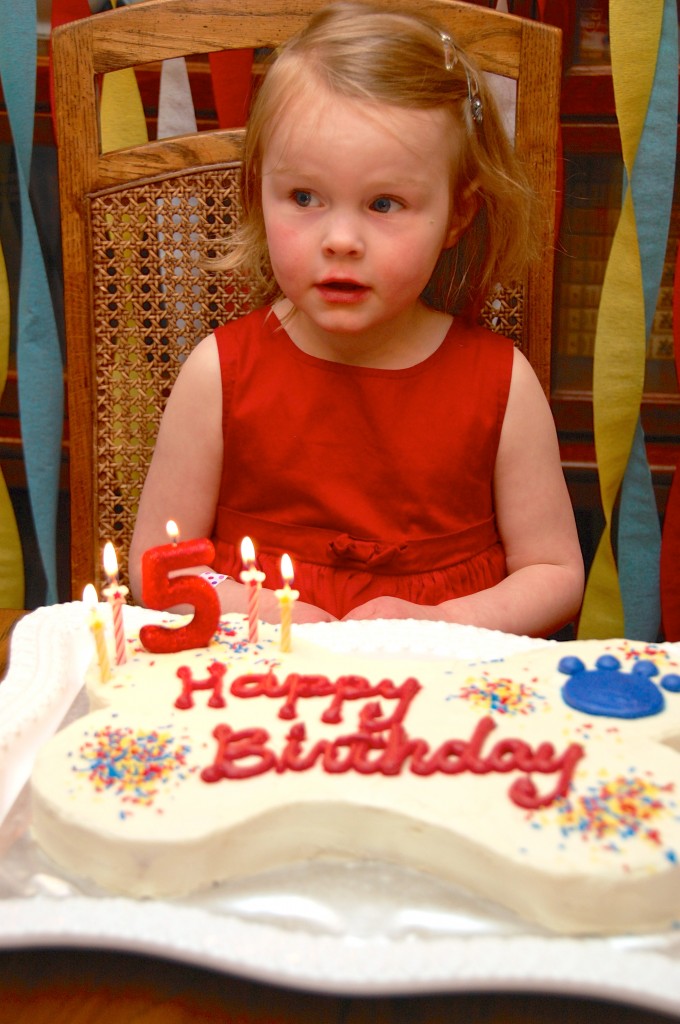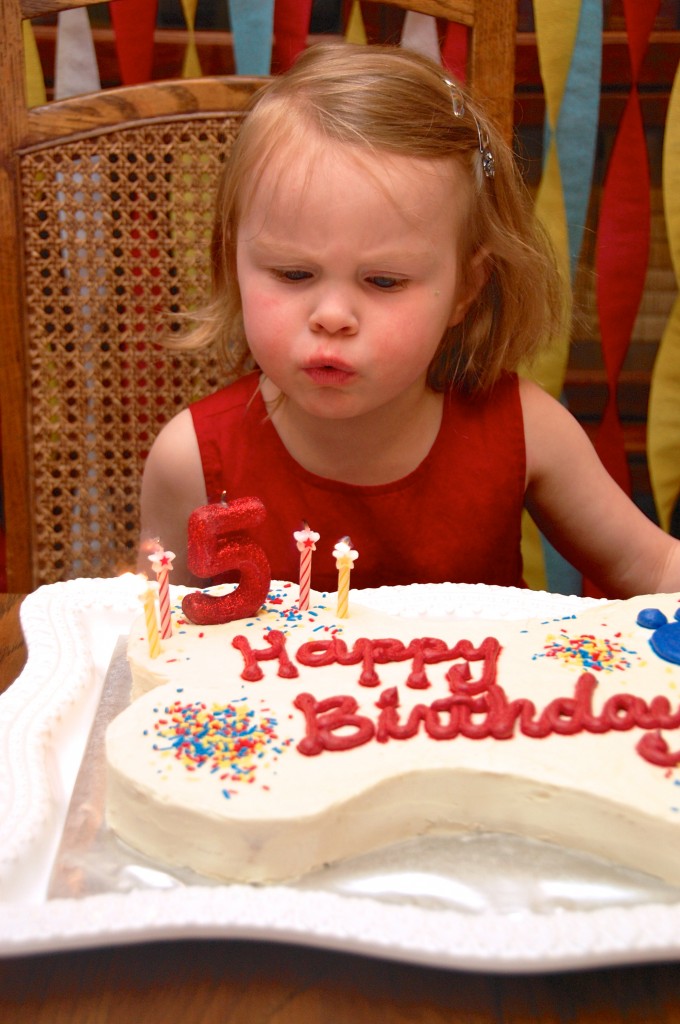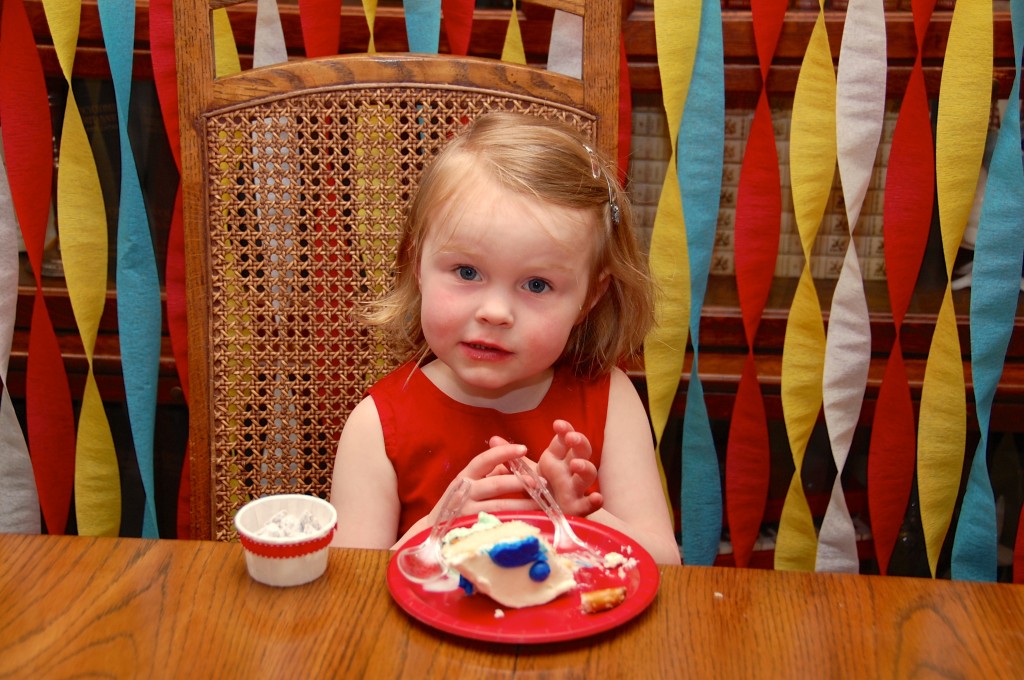 And that's how we celebrated Alethea's Big Red 5th Birthday. It sure was a good one, although I can hardly believe I'm the mother of an almost kindergartener. Where does the time go?!?!
PS. To view more BobbleHeadBaby celebrations, visit my Parties Page!