Yesterday was Peter's birthday, so we had people over for a joint Mother's Day/Birthday celebration. It was a nice time spent with our families. However, since it's a bummer to always share your birthday, we went to a Twins game last weekend, just the five of us (Bob was there too even if he couldn't see what was going on), for a Birthday Only celebration.
The girls were really excited at the prospect of going to a game, and even reluctantly consented to wearing pants. (They almost always wear dresses or skirts, because they insist that's what princesses wear.)
It was a 1:10 game, so we got them a each a kids meal for lunch on our way in. The hot dog, chips and small drink bought us 2.5 innings in our seats.
I knew the girls would be excited to see T.C. I was hoping he would show up on our side of the stadium about mid-game so we'd have a distraction to look forward to. Unfortunately he came at the bottom of the 1st, which means we spent eight innings answering the question, "Where did T.C. go?!?" We couldn't have asked for better weather though. It was actually a little hot sitting in the sun.
A bag of kettle corn bought us another inning and a half, after which we took the girls up to the concourse to get out of the sun and walk around a little bit. We spent several innings in the shade, during which time the girls found themselves in need of the family restroom multiple times. Twins runs scored when each parent was in the bathroom with the girls… Elise 4, Peter 0. Apparently me not seeing the good parts is key to the Twins winning. But at least they did win, and we were back in our seats to watch the fireworks go off.
Then there was taking the obligatory down-by-the-field photo. (They are smiling so nicely because a lady heard me trying to coax them to smile and told them that she bet their Mommy would give them a dollar if they smiled. Clearly she doesn't know their Mommy.)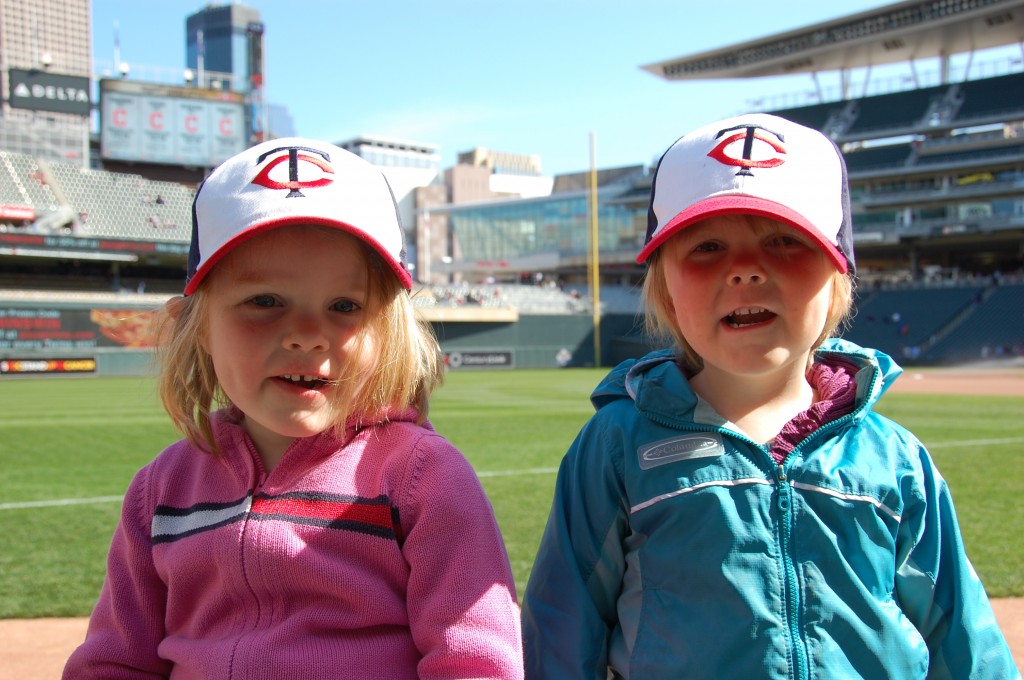 Since it was kids day, they were invited onto the field to run the bases. They were excited about it at first, but much less so when they realized they weren't going to be allowed to run all over the grass.
Then it was time for the long walk back to the parking garage, which proved to be a bit too long for one little fan.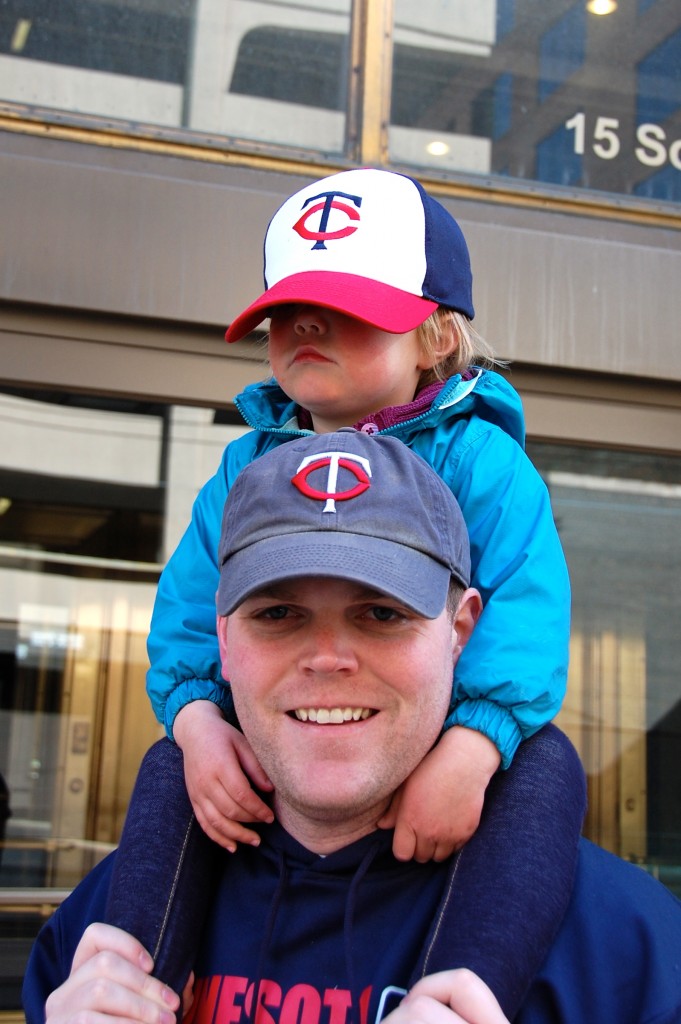 But that's okay. With no major melt-downs we are calling the outing a success.
Happy birthday, Peter! There's no one with whom I'd rather spend my all my Twins games (which roughly translated means, I love you very very much!)