We spent most of the 4th of July holiday weekend visiting my grandparents in Iowa. This isn't going to be a long post, because it's late and I should go to bed, but I wanted to get some pictures up before it's long past the event.
Can you believe that I actually managed to be organized enough to pack red, white and blue outfits for the kids and no one managed to soil their clothes before we sat everyone on the front steps to snap a few pictures? It was a 4th of July miracle!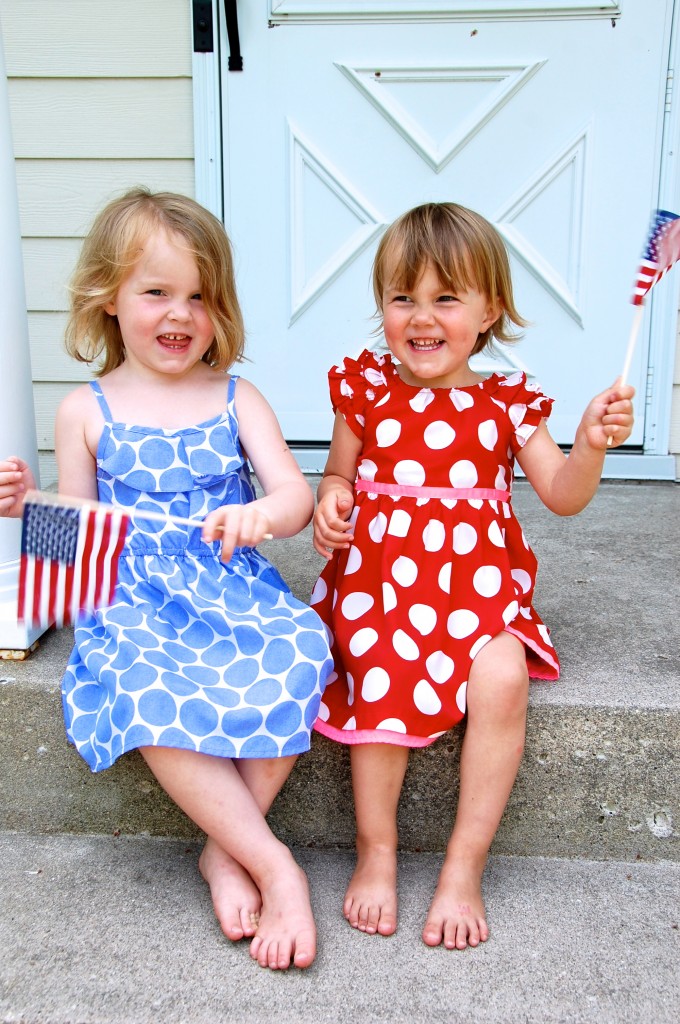 Ignore my arms in the next photo. The girls decided it was too hard to hold Caleb and wave flags at the same time.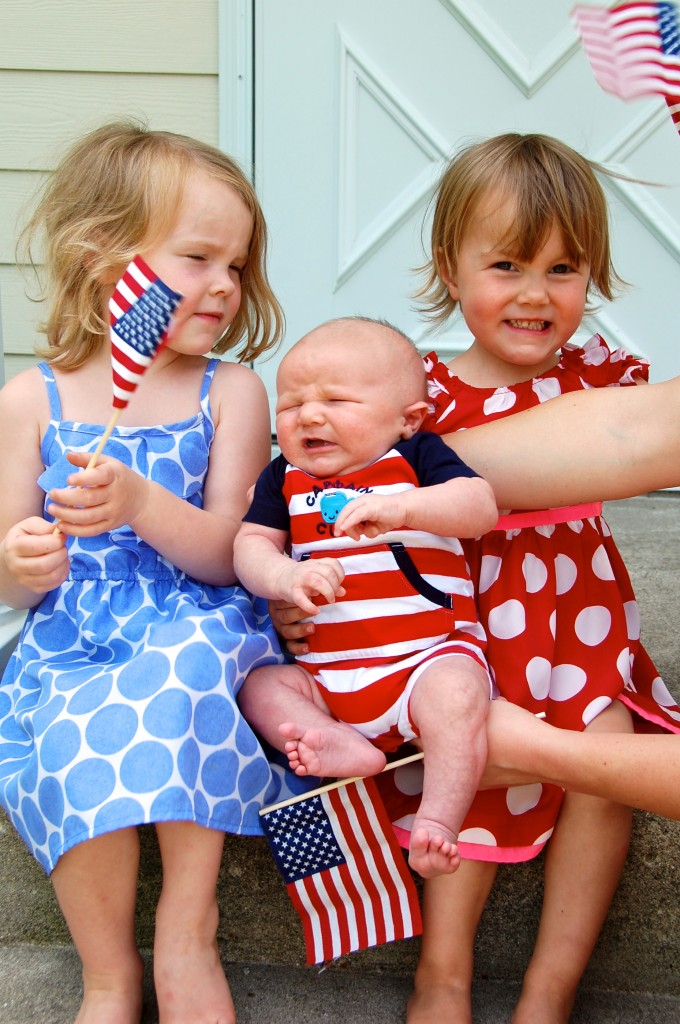 We spent a large portion of the 4th at the pool. The girls thought it was great, although they were actually a bit cold when they had to get out of the water since it was pretty windy. I thought it was perfect though since I was wearing Caleb in his baby carrier. I've never been much of a baby wearer, but I really enjoyed the fact that I could keep Caleb close to me and still walk around a play photographer at the same time. Maybe I'll become a baby carrier convert yet.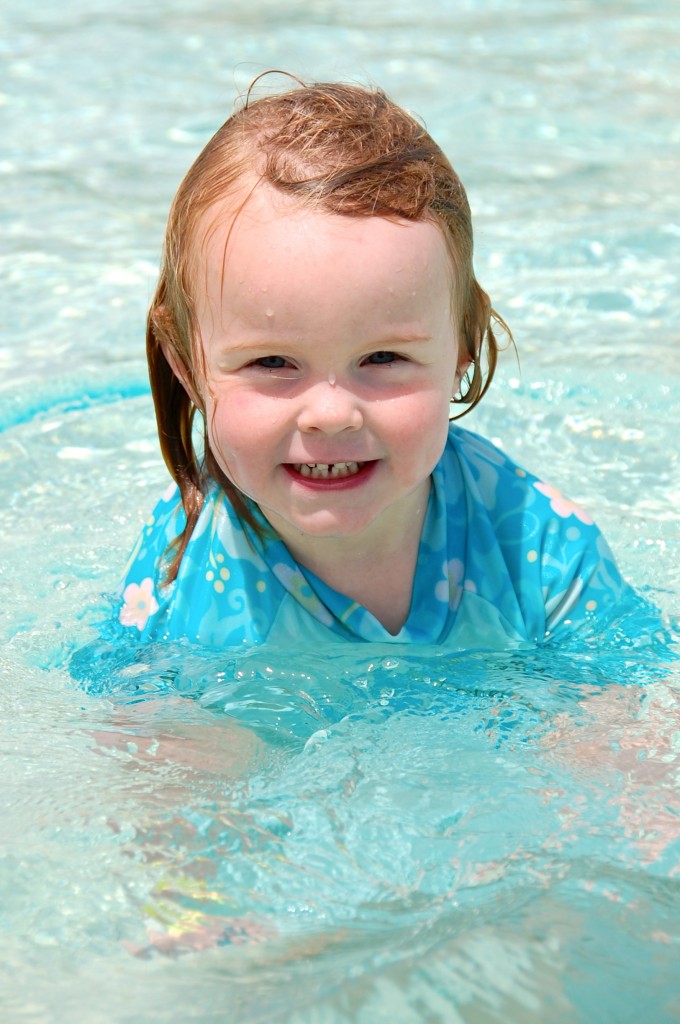 We let the kids stay up late to go sit in a field next to the fairgrounds and watch the fireworks. Everyone enjoyed them. Even Caleb thought they were intriguing. We thought he might cry when they started, but he just looked and looked, right up until the end when they shot off a bunch at once and then he decided it was too loud for his liking, so we covered his ears for him.
And of course, the best part of the trip was getting to spend time visiting with Grandma Ruth and Grandpa Jim, and eating all of the delicious food Grandma cooked up for us. The girls were especially pleased to be served dessert with every meal. I should have taken a picture of the homemade strawberry ice cream and star shaped sugar cookies, but alas, I was too excited to taste it to bother finding my camera, so you'll just have to imagine. Yum!
I did get a picture of the kids with their great grandparents though, which is really more important.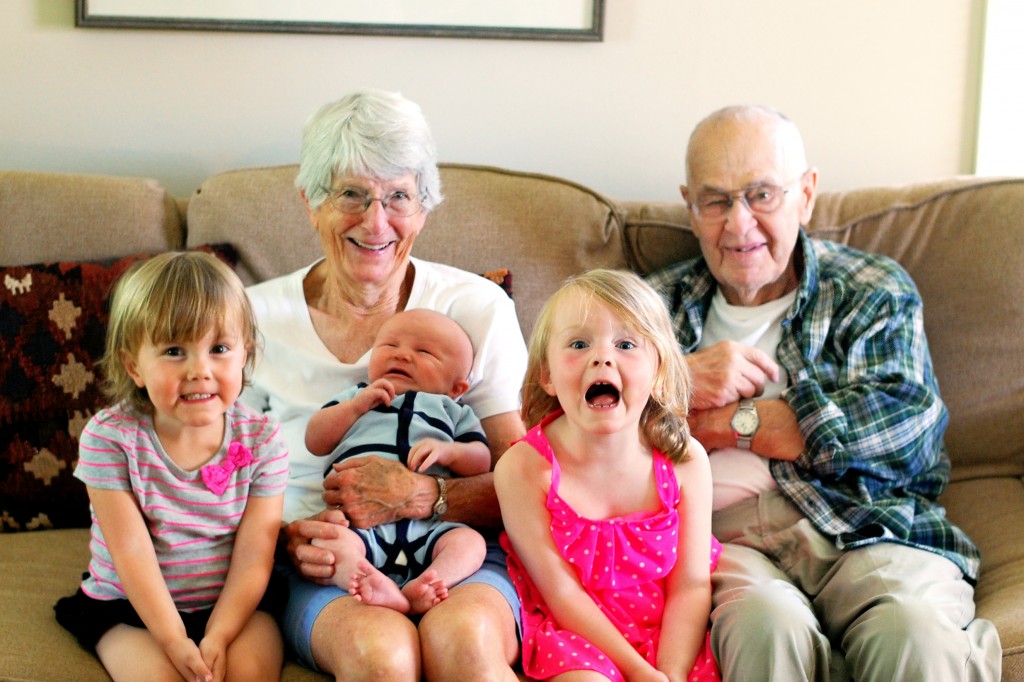 Thanks again for a great time, Grandma and Grandpa! The girls are already talking about everything they want to do "next time" in Iowa.
Hope everyone else had a great weekend too!