Last Saturday was Alethea's long awaited third birthday party.  As requested by the birthday girl, I decorated with a bumble bee theme.
Here's how the cake table turned out: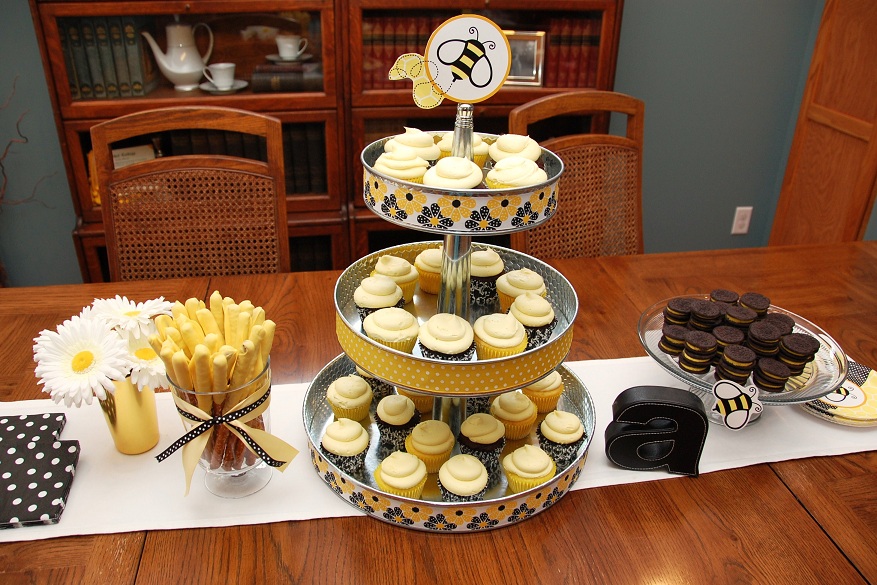 A friend of mine made these beautiful cupcakes for the party.  They were amazingly delicious and made for a cute display on the tiered tray I borrowed from her, wrapped with ribbons and topped with a bee I cut out of one of the dessert plates.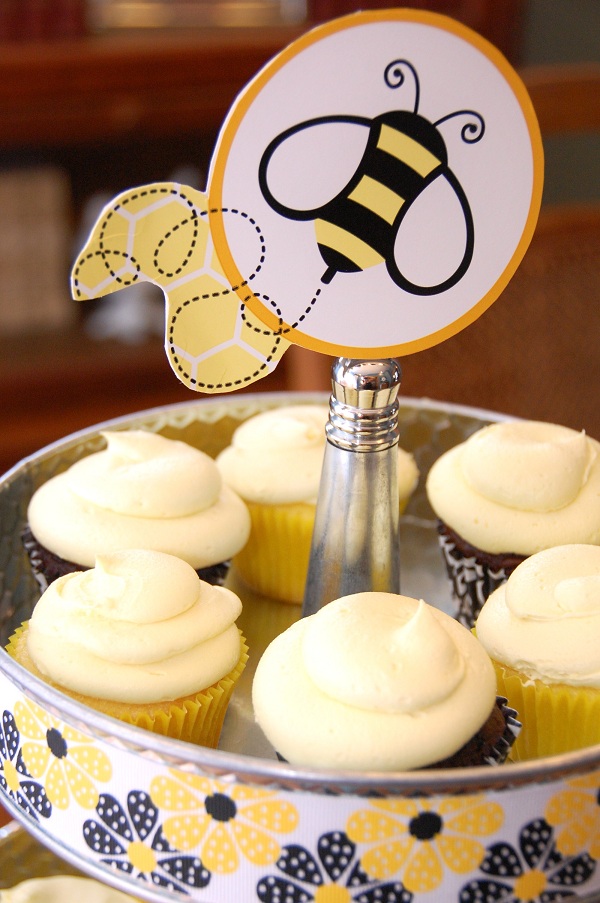 Alethea made the coated pretzels herself using some pretzel rods dipped into yellow dyed almond bark.  She did such a good job that every last one of them was gone by the end of the party.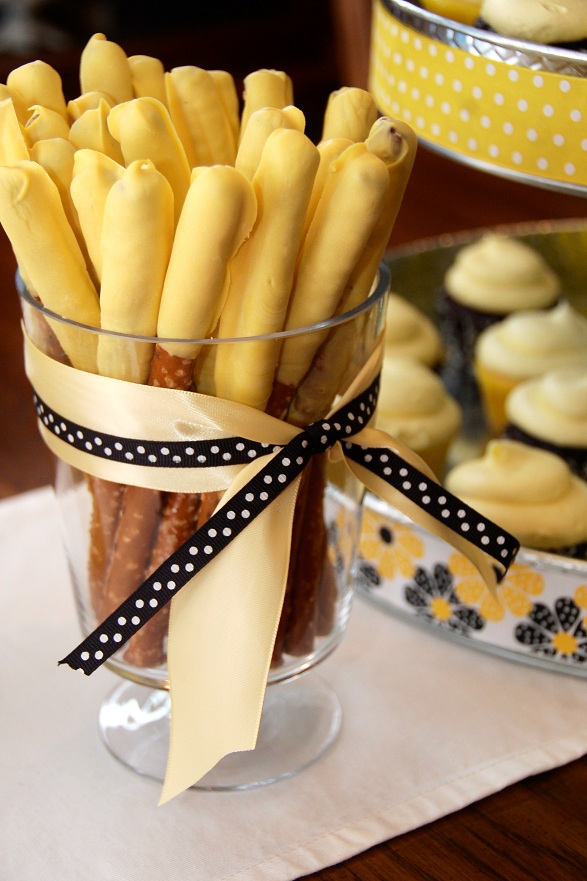 I put together a photo display on the console table behind the couch in the living room highlighting a few of my favorite Alethea moments from this past year.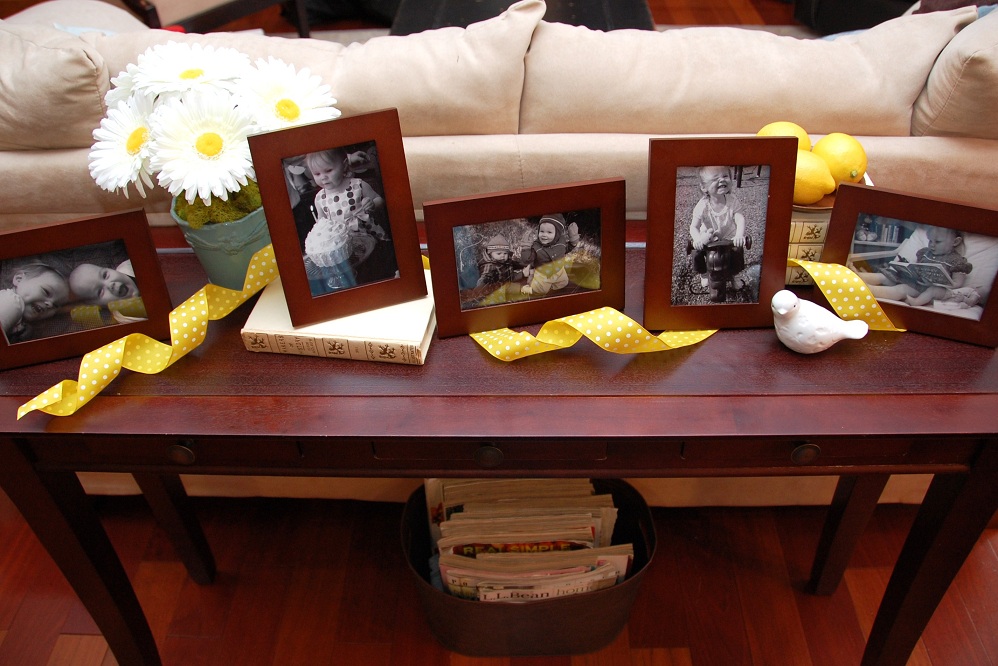 Peter rolled his eyes when he saw me wrapping the silverware.  A little over the top?  Maybe, but I'm justifying it by imagining that it made it just a tad easier for everyone filling their plates.
I couldn't resist getting Alethea this bumblebee pillowcase dress I found on Etsy.  It made me a little nervous when Alethea repeated declined any interest in wearing it prior to the party, but when the day arrived she willingly donned her dress.  Buzzzz!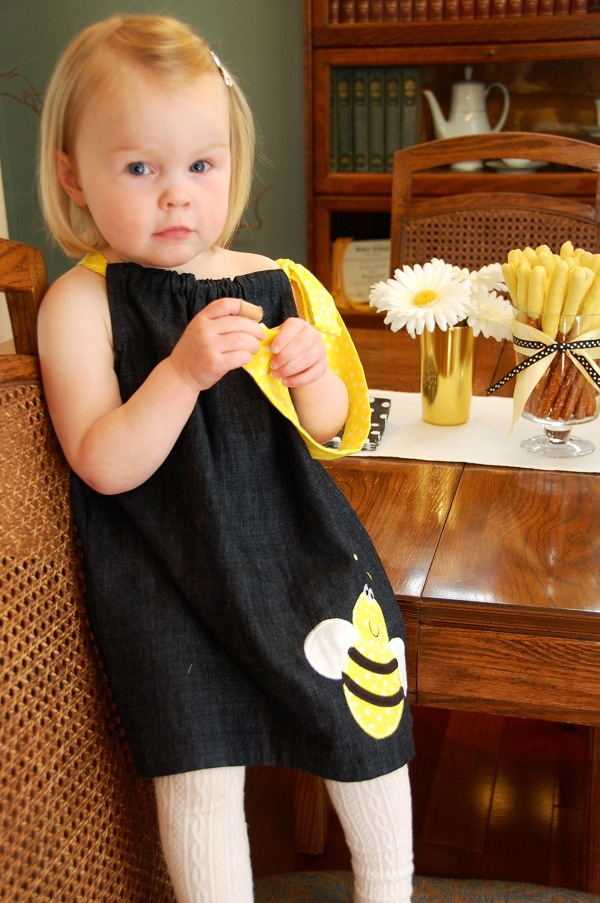 The first order of party business was to eat lunch.  We kept it simple with hot dogs and brats on the grill with easy sides like chips and fruit.  The kids thought it was perfect party cuisine.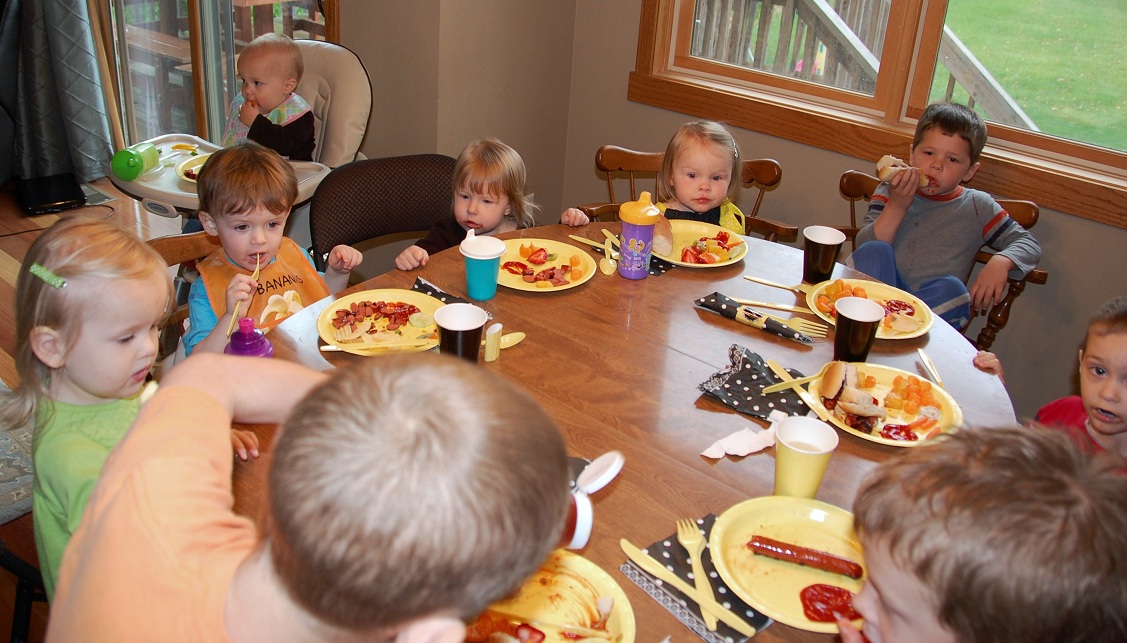 Alethea had a lot of fun opening presents.  She got some great clothes, lots of outdoor toys like chalk and bubbles, some stuff for playing dress up, a cute wooden microwave, as well as more clothes and a swing for her baby doll.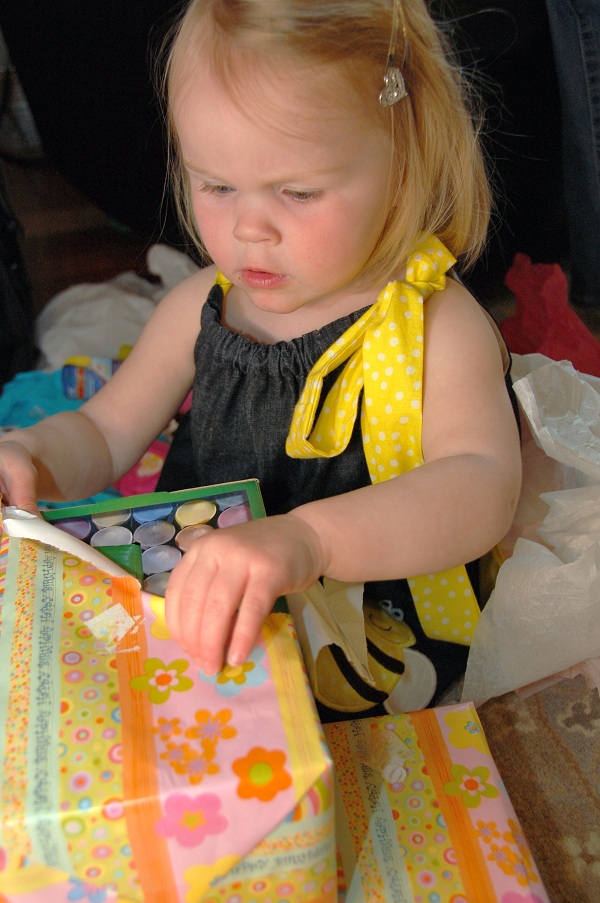 Her favorite present though was the trike from Mommy and Daddy.  After stuffing Lullaby and Dee into the basket, she promptly climbed aboard to pedal her way around the kitchen and down the hall.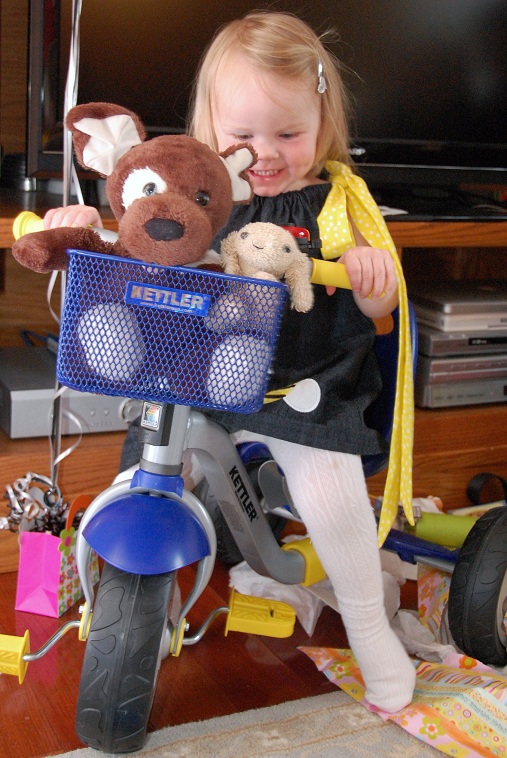 Alethea probably would have been happy to spend the rest of the party on her trike, but she did get off long enough to blow out her birthday candles…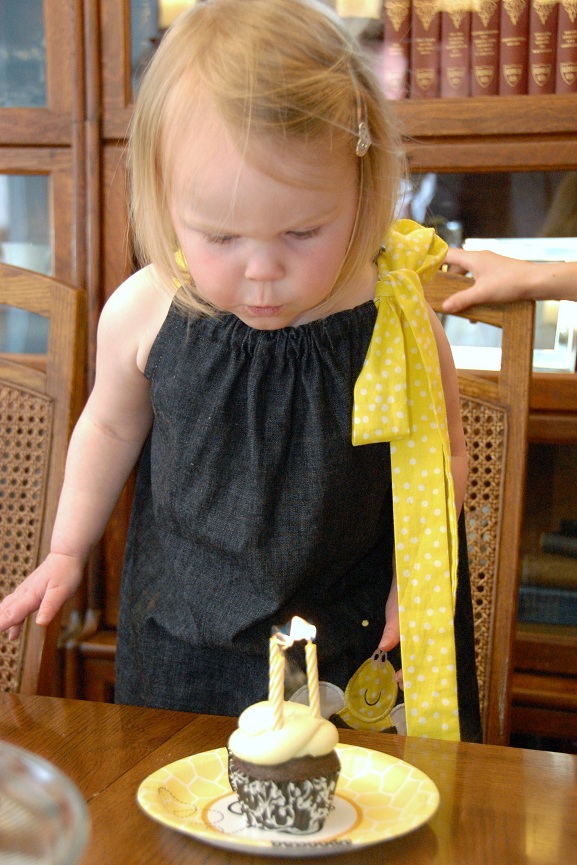 … and to devour her cupcake.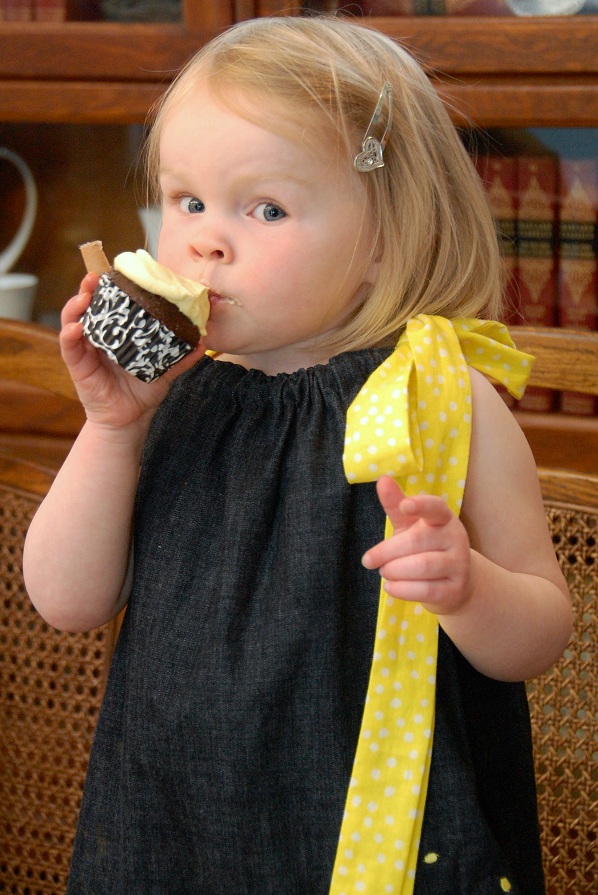 Alethea wasn't the only one who liked the cupcakes; Lydia enjoyed hers as well.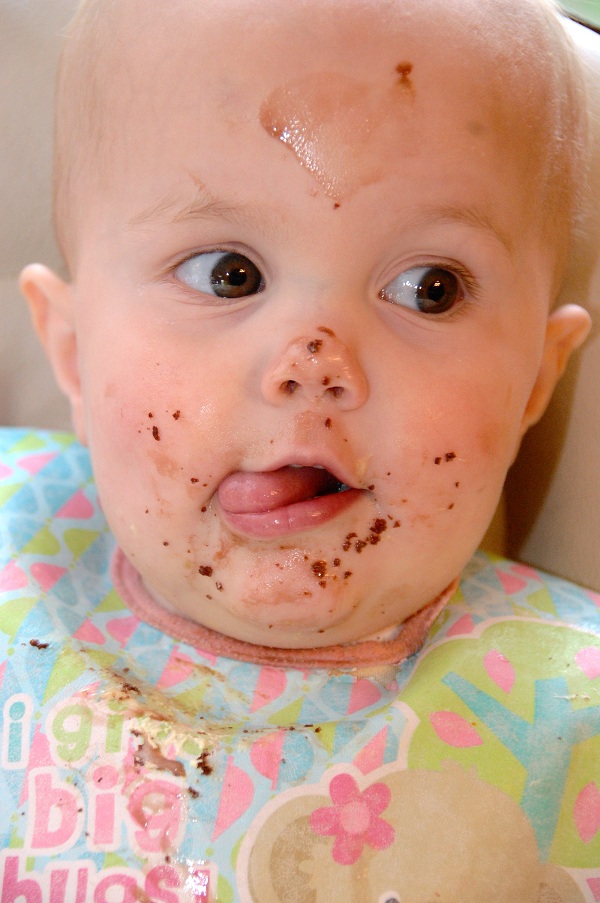 At the end of the party, each child went home with a little goody bag filled with bee themed delights – stickers, bubbles, a party blower and a big yellow sucker (Alethea's requirement).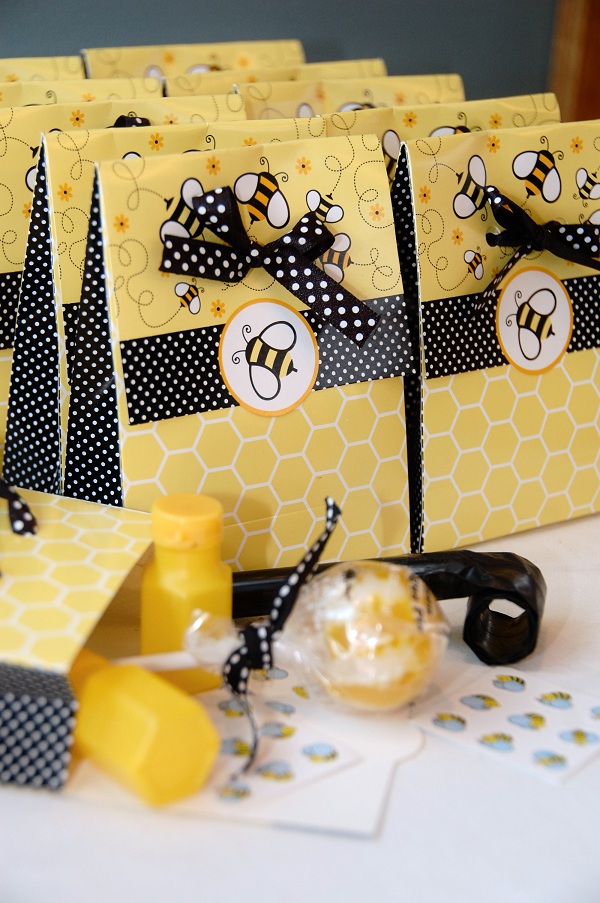 All in all, I'd say it was a perfect 3rd Bee-day celebration.
Thanks for buzzing over!
To view more BobbleHeadBaby celebrations, visit my Parties Page!