Alright, so I know I promised some photos from our vacation to Arizona a couple weeks ago.  I'm here to deliver the goods, but fair warning that since it was a family reunion, I didn't take a ton of pictures.  A lot of our time was spent just hangin' around, which was very enjoyable, but not always photo worthy.
Arizona is about as different from Minnesota as you can get, so there were lots of things that were totally new to the girls.  As our flight was descending into Phoenix, Peter pointed out the window and said to Alethea, "Look at the mountains!"  Apparently her only context for the word "mountain" is a children's song, because she responded, "Are those what the bear went over?"
Another totally new thing was all the cacti.  They had a chance to get up close and personal with one.  Naturally Clifford and Baa-baa had to check out the cactus too.  Also predictably, Alethea proceeded with extreme caution, and Lydia just had to find out what Mommy and Daddy meant when they said it was sharp.  Turns out, it was in fact, sharp.  Lesson learned.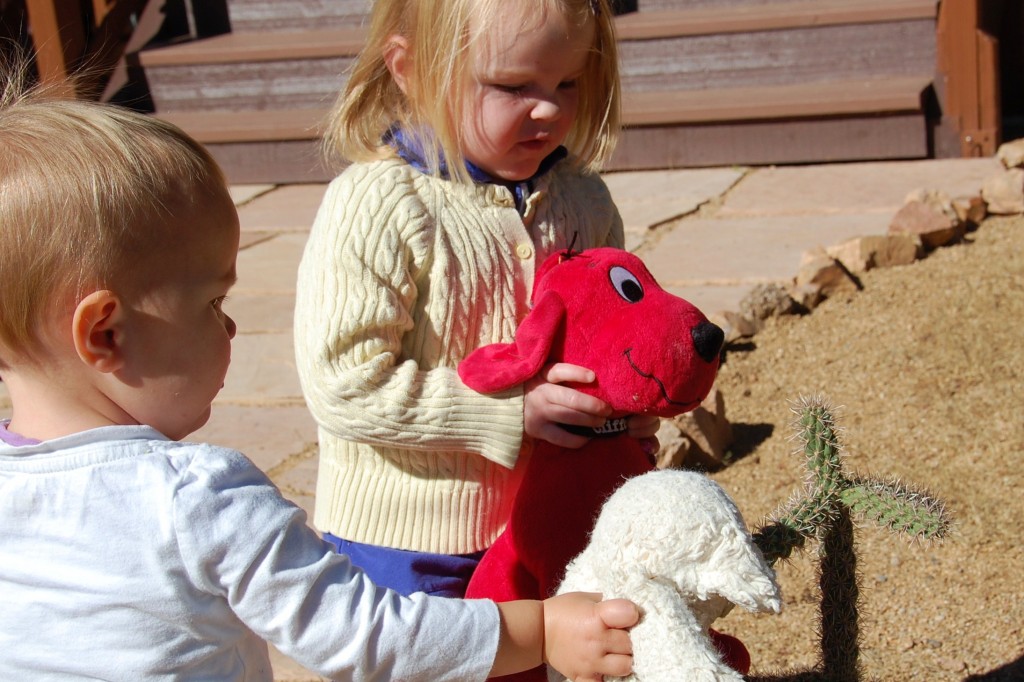 Peter's mom was nice enough to watch the girls for an afternoon so we could go out with some of the rest of the family and go on a little horseback trail ride adventure.  We were quite happy to find a place with a relaxed attitude that let us do some trotting, ride side by side and periodically mix up the order.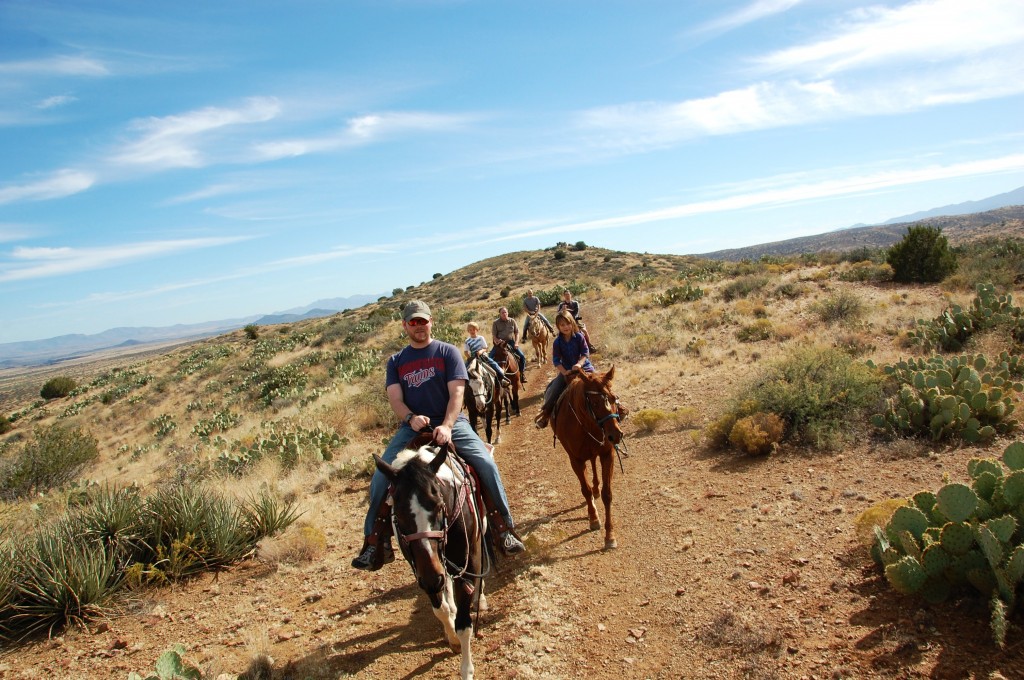 I'm pretty proud of this shot given that it was taken one handed, over my shoulder on a moving horse.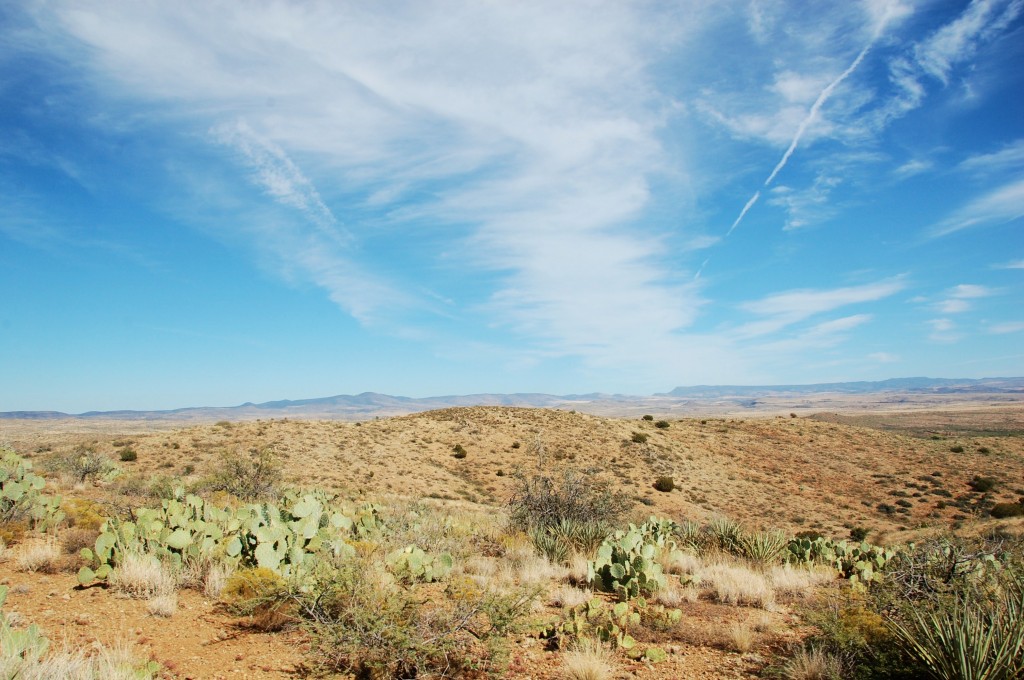 Mostly I have to wonder about people who live in the southwest.  I don't think I could do it.  I like trees.  I need trees.  But there really is something about the sky there.  It's really big and really blue.  Breathtakingly so.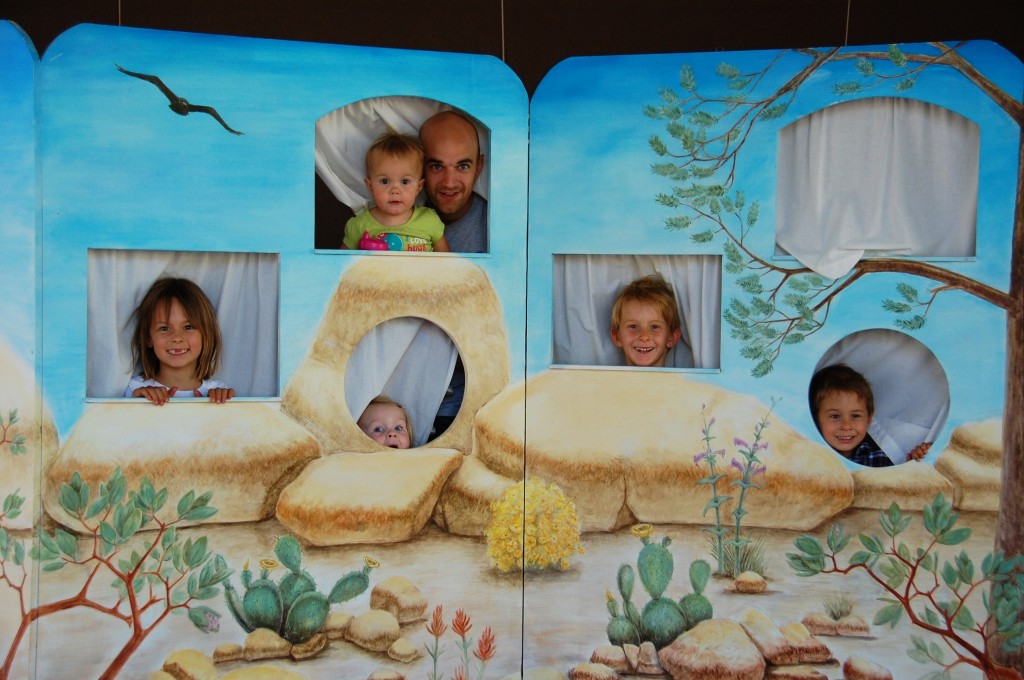 We visited a nature center one morning.  The girls had fun on the puppet stage with their second cousins and "Uncle 'Teve".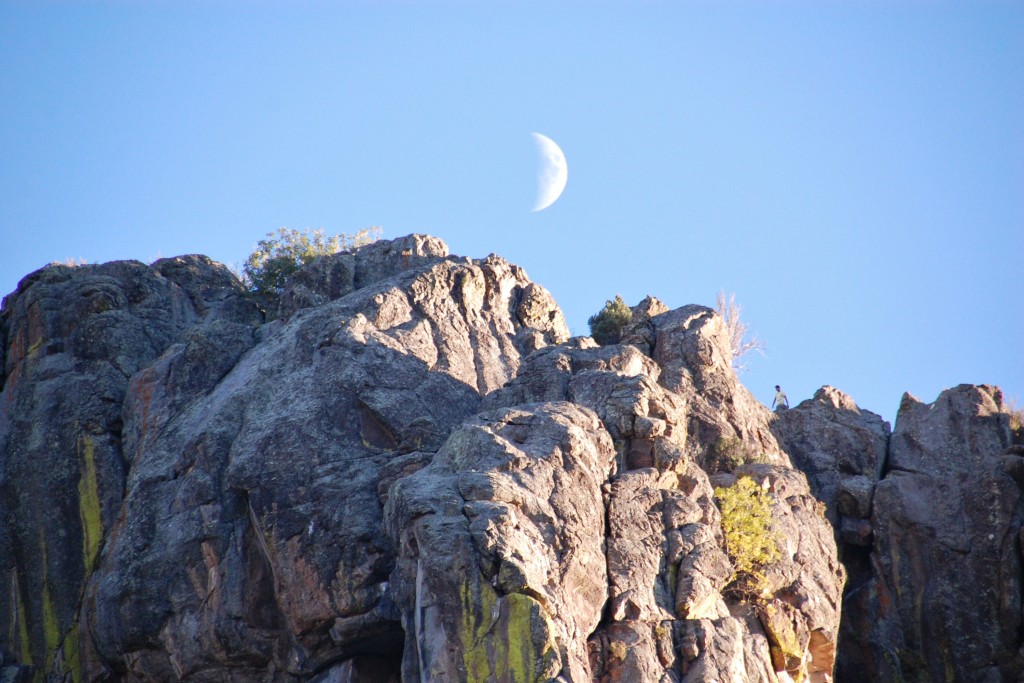 Peter went for an afternoon hike one day with his dad and brother and got this cool shot of the moon coming up over the butte.
Every vacation we try to get an ornament for our Christmas tree, so we had to hit up the Christmas store.  This year we let the girls each pick one out as well.  Peter and I got a blown glass cowboy boot, Alethea selected a pink glass ice cream cone and Lydia went for an adorable buri owl.
That trip to the Christmas store along with some delicious meals, hanging out with family, soaking in the hot tub, a couple games of Settlers of Catan, one trip to the ice cream parlor and getting caught in a traffic jam on the way back to the airport rounds out the "what we did on our vacation" list.
So, mostly good, not too much bad and no one puked, which means we are officially calling this vacation a success!  Whew!