Okay, so not gonna lie, I love a good room makeover before and after.  It's so fun going to other blogs and seeing the amazing room transformations that have been completed.  But to be honest, it's also a little bit intimidating.  I often think I should post more pictures of whole rooms in my house, but I so seldom feel like rooms have reached their "after" state that I get frozen.  I think, "maybe when I've done XYZ, THEN I'll take 'after' pictures."  But who am I kidding, there are ALWAYS more tweeks and changes and updates waiting to happen.  And I'm okay with that.  I like the fact that my house is evolving with my style and the needs of my family.  That said, I'm about to show you "before" pictures and "where we are now" pictures of my guest bedroom, but I'm not going to call them "after", they just are a progress report, if you will, because I have no idea when, if ever, the room will be 100% done.
This is what the room looked like in June of 2012 before I got a hold of it…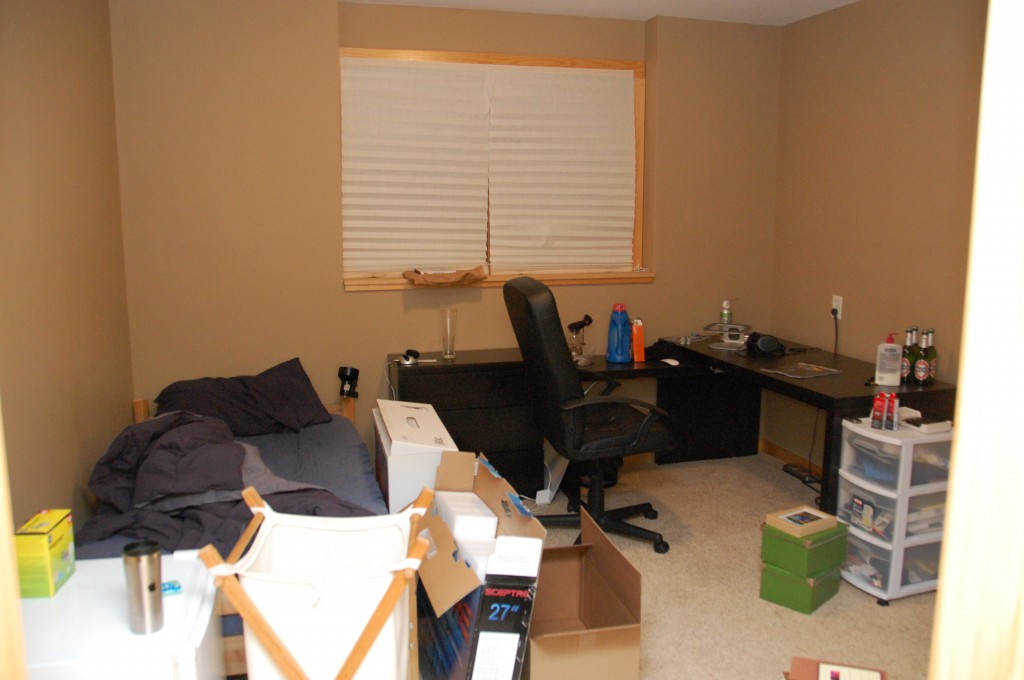 We had a bachelor friend living with us and he was in the process of moving out when I snapped this shot (it wasn't this messy normally).  Just an FYI in case you wonder where all the stuff went in the rest of the pictures, none of it was ours.
And here is the room as of two weeks ago (from a slightly different angle)…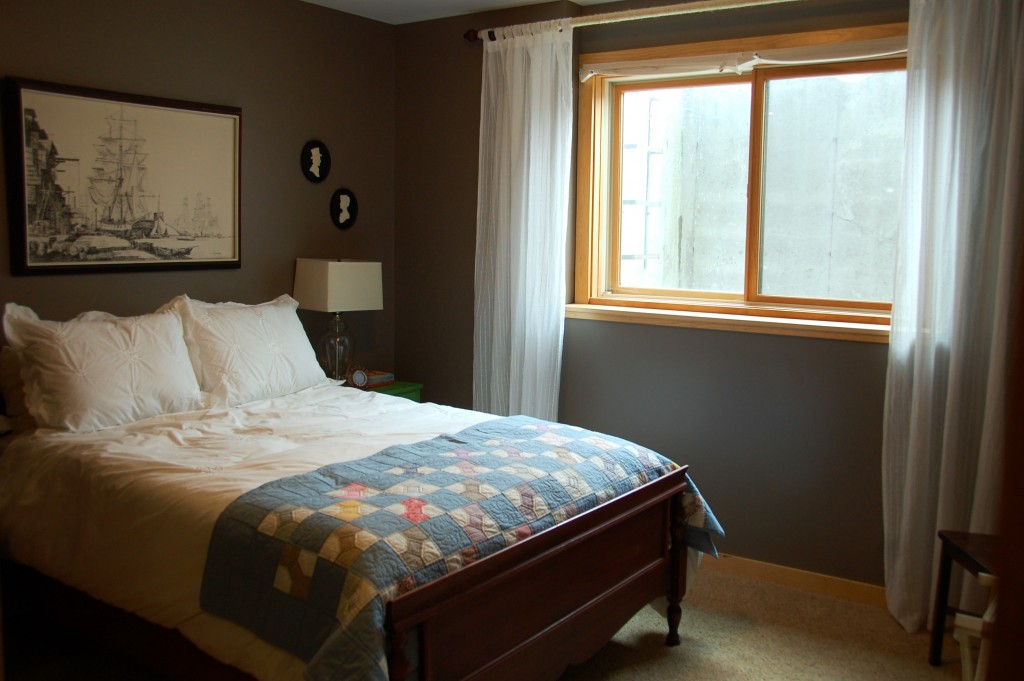 I had originally picked up some fabric from JoAnn's that I was going to base the room's style around, but then I remembered this bow tie quilt that my great grandmother had made and I knew it would be the perfect centerpiece for the room.  I'm calling the room's style "Grandma's Attic Chic" which is just right since I wanted to work with family hand-me-downs and things I found second hand (or by the side of the road).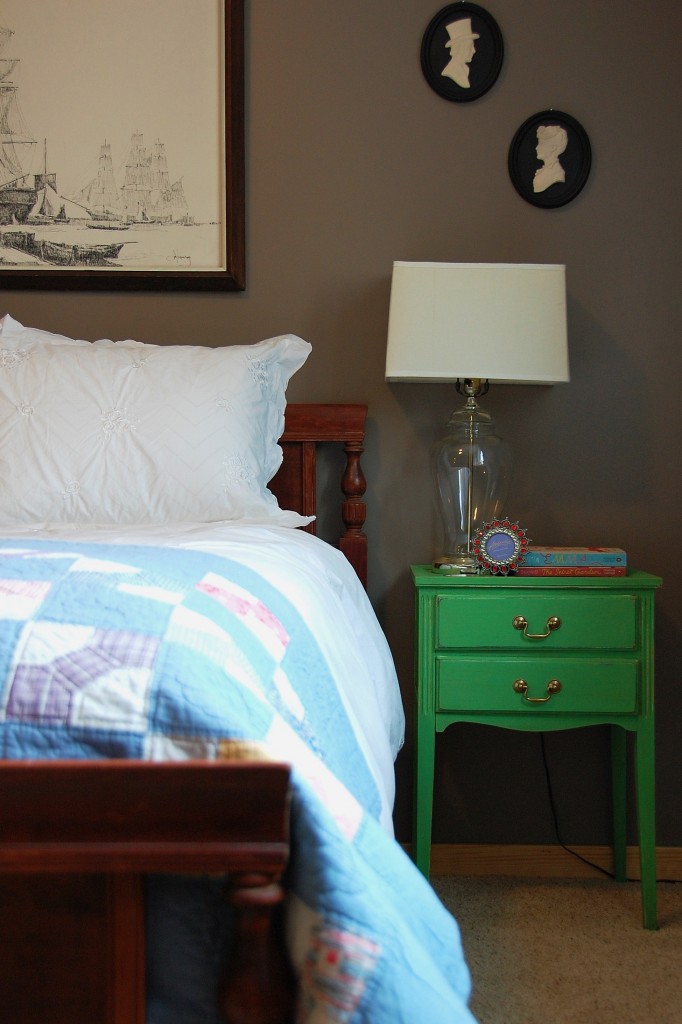 The little green end table is my favorite find for the room.  It was $40 at an occasional sale, which is a bit of a splurge for me, but what can I say?  I just fell in love with it and it's happy green self. (If you have sharp eyes, you may recognize the lamp on the table as this one from the thrift store that Peter hated so much.  I haven't gotten around to doing anything with it other than switching out the shade, but it already looks better, don't you think?)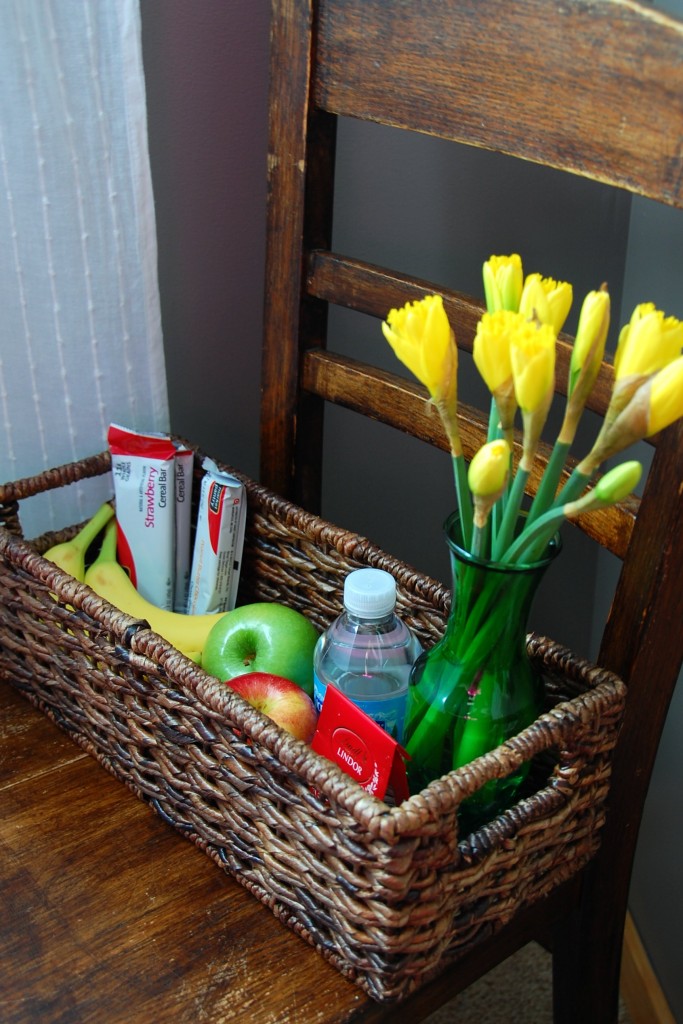 This is an element that isn't always in the room, but a friend from college was coming to visit, so I put together this welcome basket for her to enjoy during her visit.  It's something that Peter's aunt did when we stayed with her last March and I thought it was just so thoughtful that I've been doing it for our guests ever since.  I for one think it's nice when I'm traveling to have easy access to some healthy snacks, a bottle of water, and of course, chocolate!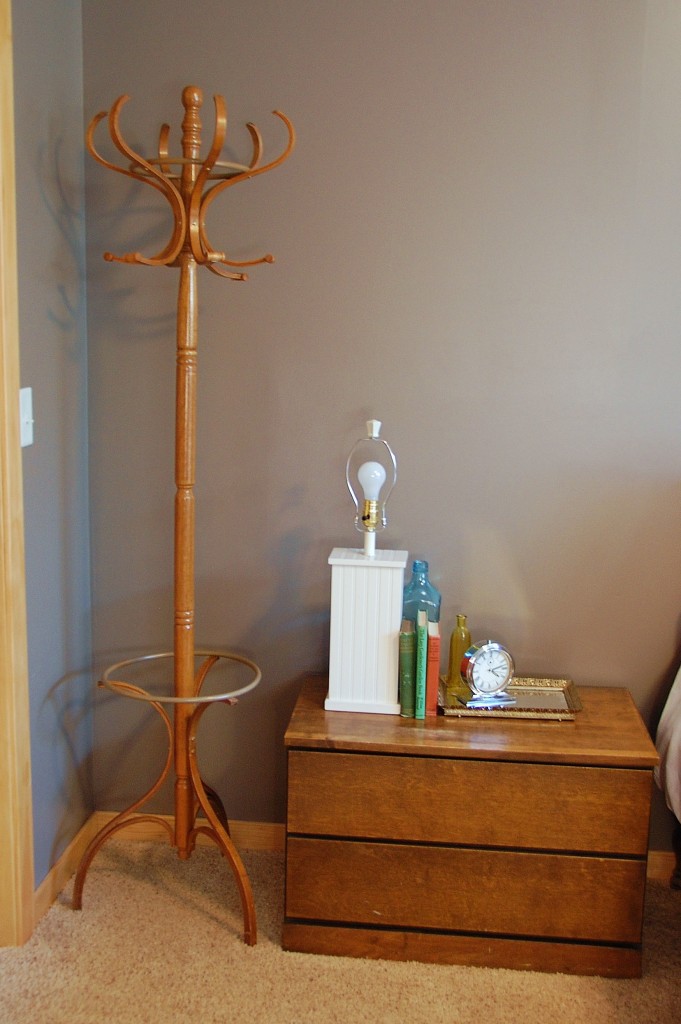 This is one of the parts of the room that is most certainly still in progress.  Yes, the lamp needs a shade.  And yes, the two drawer chest is much too low to properly function as a bedside table.  The plan is to find an end table or small desk to replace it.  (I may perhaps move in the desk currently in my piano studio if I can ever locate its replacement.)  I am really excited about the coat tree though.  It was a $3 estate sale find that I intend to spray paint a bright happy color just as soon as the weather decides to cooperate.  Is 40 degrees in mid-March really too much to ask?!?!? Seriously, people.
So there you go.  The guest room is making progress.  If the snow ever melts, I'll try to remember to post another update with the revamped coat rack.  DIE SNOW, DIE!