No, the front porch isn't done yet.  We hit it hard this past weekend and I am happy to report that all of the masonry and major construction is done.  We are sensing light at the end of the proverbial tunnel, but still have some painting, staining and other finish work to do.  Soon.  It will be done soon.  But in the mean time…
I am ashamed to say that I have been hoarding an embarrassment of picture frame riches in my garage for the past 12 months.  Can you believe that I have had half-a-dozen large and beautiful empty picture frames for a year now and haven't managed to do a single project with them yet?  *Hangs head in shame*
But this past weekend that all changed.  I finally got one of them transformed and up on my wall.  Here's how it went down…
Last year we got a stack of great frames from Peter's parents who were cleaning out his great-aunt's house.  I loved this one in particular: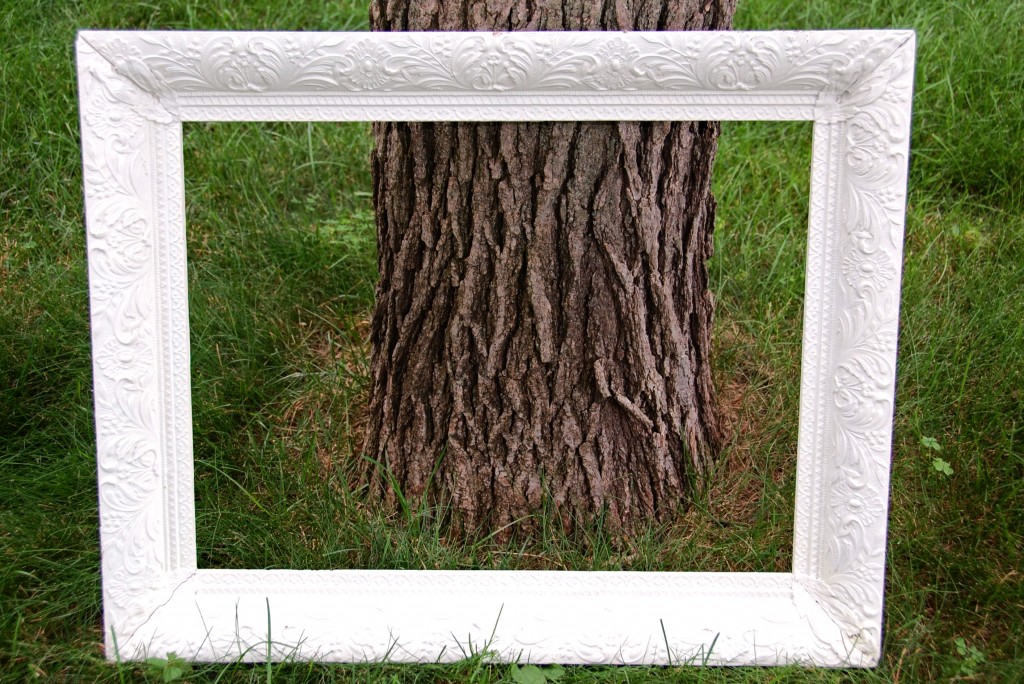 I thought it would make a great frame for a mirror, but I wasn't sure where one might get a custom sized chunk of mirror.  I thought I might have to call one of those glass specialist trucks, but since that seemed likely to be pricey, I made a quick call to Lowes first.  I found out that yes, Lowes does cut custom sized mirrors (up to a certain size), but the guy on the phone was a little fuzzy on the details.
I had a bunch of other stuff to pick up for the front porch project anyway, so the girls and I made a trip one morning to grab what we needed and check out the mirror cutting situation.  Turns out that you buy a large piece of mirror (I think it was 30″x36″) for $17 and then they cut off the piece that you need.  I wish I had known that ahead of time, because I only wanted a 15″x20″ chunk, but after the guy cut it, he asked me if I wanted the rest of the mirror.  And what was I going to say, "No, I paid for it, and it's perfectly good mirror, but please throw it in the trash"?  Nope, couldn't do it, so I ended up with not one, but two 15″x20″ pieces as well as two smaller 15″x16″ sections.  (Anyone else sense more mirror projects in my future?)
Back at home, I headed outside to freshen up the picture frame with several coats of gloss white spray paint.  While the paint was drying, I attempted to photograph my recent Lowes acquisition.
Is it a mirror or a portal to another dimension?
So photographing a mirror ended up being a little tricky, but I tell you, if I had known how simple the actual project was going to be, I would have done it ages ago.  One trip to Lowes, a few coats of spray paint, put in some staples with a staple gun, bend staples away from frame, insert mirror, bend staples back and 'voila!' it's done!  One gorgeous framed mirror for around $20, with paint and extra mirror pieces to spare.  Love it!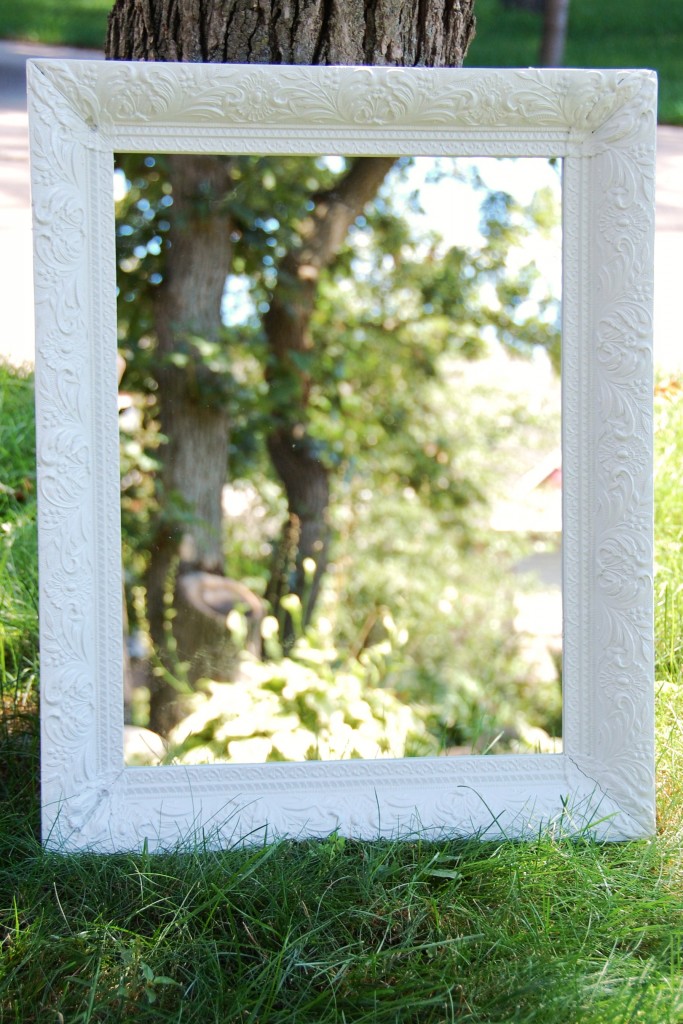 Lydia thought it was pretty great too.
We had a good time playing with the mirror together.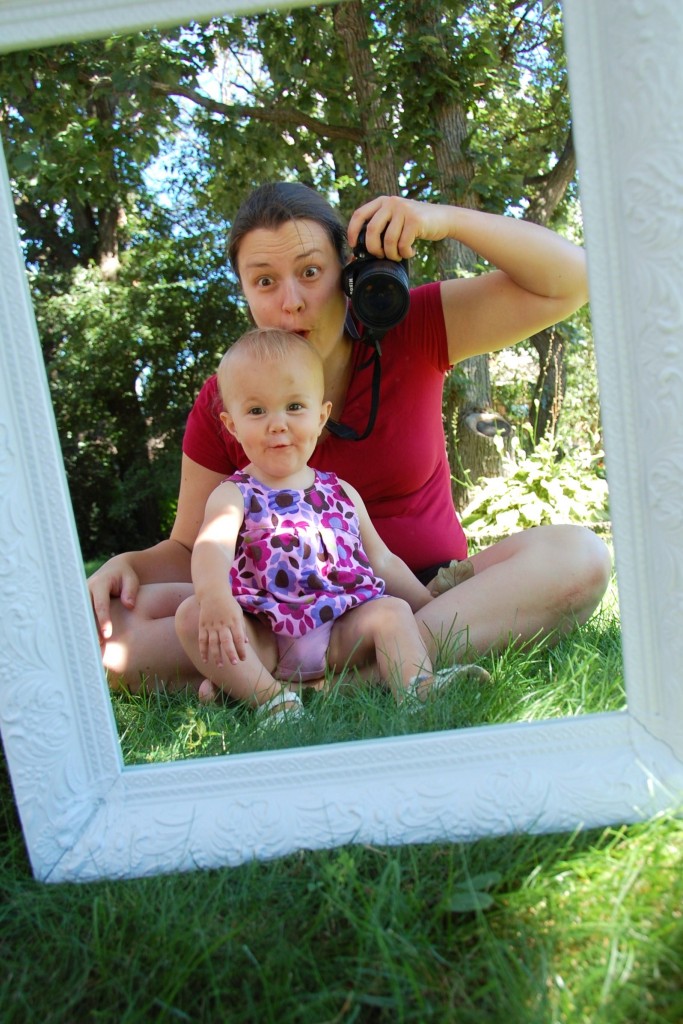 So that was my adventure in DIY mirror framing.  Right now the finished product is hanging in my dining room, but I'm not sure if that is its permanent home.  We'll see where it ends up.  I feel like it could look good in just about any room of our house.
It might even look good outside.  But with our super slick new front porch, the mirror probably wouldn't get the attention it deserves.  I'd say it takes something pretty adorable to distract from something so fabulous as a nearly finished front porch.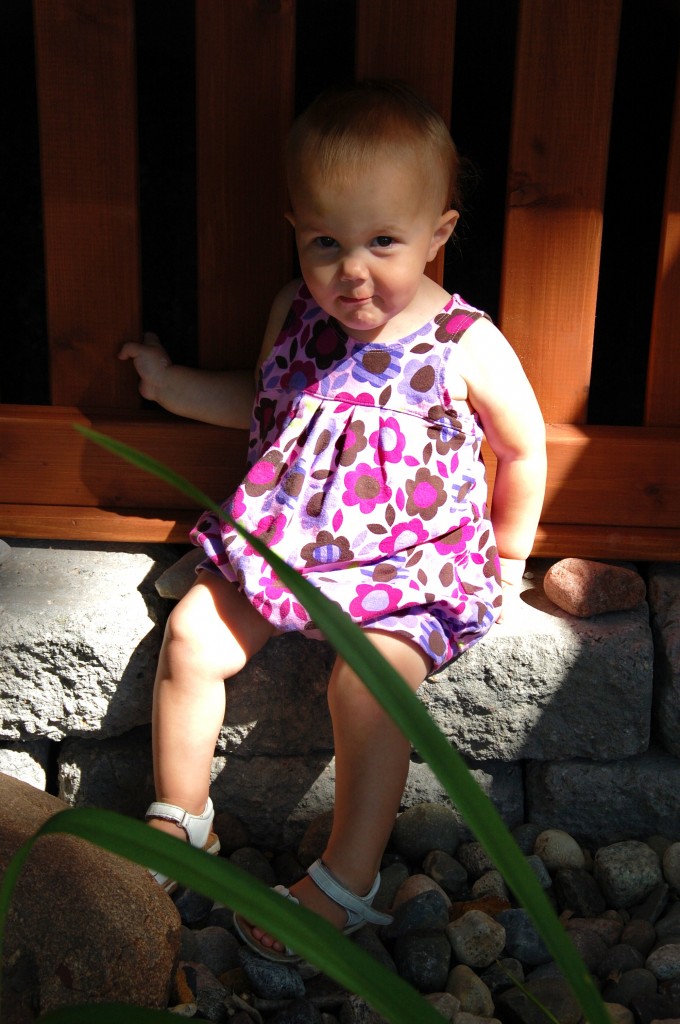 Wouldn't you agree?
Update: To view the completed front porch project, click here.